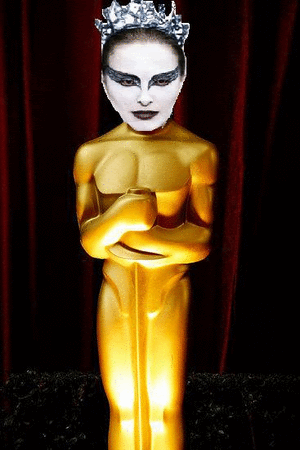 So the Oscars are almost here! The movie industry's biggest night! It's where childhood dreamz become a reality! Where our favo starz are honored. Where crossed American Idol contestants get their just dessertz! And I can't wait!
The show is on 2.27

[aka mah birfday!!]

and in preparation, I am desperately trying to see all of the filmz nominated for Best Picture. Since the Academy is trying to exxxpand the playing field & include filmz of overlooked genres is trying to make mi vida even hawder, starting wiff last year, they have bumped the nominees from 5 filmz to 10!!!
So far, I've seen 6. And I am dizzyappointed cuz I desperately wanted to be able to recap all ten for you. But since I need sumfing to blog about today I love class participation, I'll take a stab @ summarizing the six filmz I've seen just ten werdz & leave it to you bloggy readerz to summarize the 4 I haven't yet seen!
✔ Black Swan - Ballerina gets role of a lifetime and loses her shit.
❒ The Fighter - ____________________________
✔ Inception - Peepz crack into the unconcious mind and fuck shit up.
✔ The Kids Are All Right - Spawn of lesbian couple hunt down their incredibly sexxxy father.
✔ The King's Speech - Duke of York becomes king, sucks at talking, gets help.
❒ 127 Hours - ____________________________
✔ The Social Network - Guy who kinda sucks kinda steals idea for Internet phenomenon.
✔ Toy Story 3 - Army of forgotten toys fart about and make audiences bawl.
❒ True Grit - ____________________________
❒ Winter's Bone - ____________________________
I think it's gonna come down to The King's Speech & The Social Network snagging the trophy. Although, The Black Swan does have the artsy underdawg feel to it, so I wouldn't be surprised if that swiped that little golden man.
What about you?! Which of deez films have
you
seen dis year? Which were your favorites? Have you seen
Winter's Bone
,
True Grit
,
The Fighter
or
127 Hours
and have a 10-word synopsis you'd like to enlighten us wiff? C'mon and share...dis is a blog of giving!