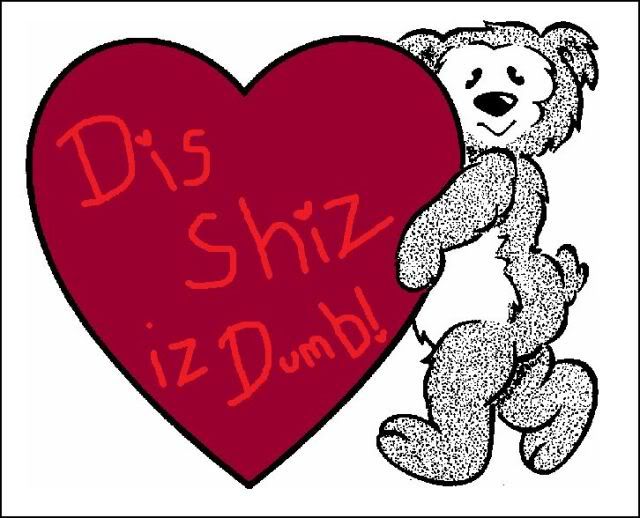 Valentine's Day is tomorrow. This means anyone that actively uses the Interwebz for any social networking will be divided up into tres categories:
1)
Peepz in relationshitz that post about their LuRrRrVeD one like anyone gives a shhh...;
2)
Single peepz who incessantly whine about being alone and proclaiming that they don't care about Valentine's Day when they so obviously do;
3)
Peepz like me who roll their eyez @ both groups and thinks the fact that peepz get so exxxcited about such a fake holiday is irritating.
But I totally get the V-Day bluez. It sucks having happy couples fart their love stench all up into the meloncholy noses of the singlez. And since I am a relationshit
victim
exxxpert, I thought I'd share some quick pointerz on how to find a lova & how to keep them ensnared in your clutchez.
1.
Always use social networking sitez to find your significant otherz. I found mah boyfriend of 3 yearz on MySpace. Sure, they might become a huge prick after a year and you won't have a romantic and cute story to share of how you met, but it's easy!
2.
On a first date dinner outing, always make sure you inundate the conversation with your highly formed opinions on music, books, movies, ego, art, opinion & commerce!
3.
In conjunction with #2, get up & walk out of the restaurant if your date says something blatantly false about pop culture
[IE: that "

Baby One More Time

" was

Britney Spears'

first single or that

Lady Gaga

has had more than 2 #1 singlez]
.
4.
Be insecure wiff how you look & constantly seek validation from your significant other. Make sure to ask them no less than 3 timez a day if they find you attractive and
never
believe them.
5.
Become inexplicably inpatient & mean when your significant other doesn't immediately respond to your pointless texxxt messages.
6.
Never actually talk to your lurrrved one about how you feel. Instead, just quote song lyrix you know they don't know. Then when they say they don't know the song, get furious with them.
7.
Always
think they are cheating on you...even if they spend 99% of their time wiff you. Cuz you know, that 1% of the time is probably spent sleeping wiff yo best friend/mom/dad/sibling/not you.
8.
When watching a movie together @ home that your boifriend/grrrlfriend wants to watch that you are uninterested in, fall asleep wiffin the first 2 minutez.
9.
If your significant other does sumfing that annoys you, don't look it over
(no matter how small)
. Call them out, start a huge fight, cry and then blame them for starting the argument.
10.
Finally, probe non-stop into their sexxxual history and force them to tell you every minute detail about every person they've bounced bits with. When meeting a friend of theirs,
alwayz
assume they've been inside them and don't believe it when they say they haven't.
There we go! My ten tipz on how to bag & keep your perfect Valentine! Do you have any other pointerz I may have forgotten? Now if you will exxxcuse me, I have to go listen to
Sara Bareilles
' "
Basket Case
" on repeat and think of a love life I will never know!