I know we've gotten a touch off of schedule, what wiff da New Year and holidaze and all that crap. But don't fret my beautiful like basketcases! Musical ABCs are back with anotha round of tunetastico show 'n' tell! Now enough wiff da nagging and nobby nuisancing. Let's all navigate our nogginz and blab about our favorite neato songs that begin wiff the noisy Mr. N!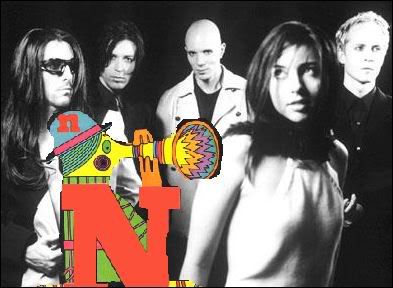 "The Nurse Who Loved Me" by A Perfect Circle
"I'm taking her home with me, all dressed in white."
Okay...I have to make a statement before I begin or else mah sister will punch me in the jaw...A Perfect Circle did not do the original version of dis herre track. The writers & original composers are the band Failure. However, since I've listened to the APC version a million times (cuz durh...it's on mah sleepytime/sad playlist!) and since that is the version I heard first, I will be largely focusing on their cover. But since I iz fair, I will post both versions below [feat. y'all readers rolling ur eyez and not giving a shet].
Anywayz! A Perfect Circle was/is a modern rock group that was largely thought of as the more commercially acceptable, yet still immensly talented side project of Tool frontman Maynard James Keenan. As I've said before, back when I was 12 or some shit, I only listened to two CDs over and over again [see: Natalie Imbruglia's Left of the Middle & the soundtrack to Forest Gump], mah sister Melody took it onto herself to enlighten me to a broader spectrum of musica. It was through her that I discovered Deftones, Incubus & A Perfect Circle.
Now, dis herre song is not only musically quite pleasing, but it also charms the poetic pants off of me! I could very well see the lyrix jotted down in some confessionalist poet's thought journal! The song is from the perspective of a mental patient who has fallen madly in lurrrve wiff his nurse. He is delusional and believez that she is all hawt & enamored with him as well and dat they will have a vunvervill life togethz. As the listener, we know he is full of malarky which makes it heartbreakingly sad to see him all Lady gaga ova this hot bitch.

The Failure version of the song is somewhat of a straight forward rock track, but what I lurrrve about the A Perfect Circle cover is how calming the music itself is, juxtaposed to how depressing & downright creepy the werdingz are! You be the judge...which do you like most?!

A Perfect Circle
Failure
runners-up: