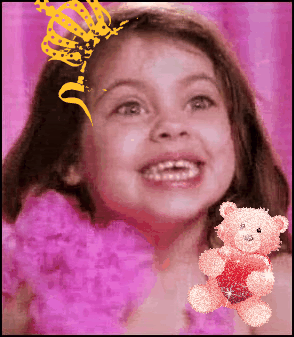 Makenzie the Beauty Queen


Much to the expected delight of
Dave2
, I have a feeling dat
Steven the Beautiful
might have a competitor in the field of most elegant
Monday Muse
of all time. It's hawd to be glamorous. You have to dress in fancy clothez
[aka toss-aways from

Britney Spears

' last tour]
, smile
like a demon
brighter than the sun, trot about like a graceful steed and sadly, eventually go blind from the bright magical unicorn shade of pink that colors EVERYTHING in your room.
All of us ugly people
[aka those who have livez]
, can't even begin to fathom the depths and strugglez it takes to be pristine/perfect/loved solely for your lookz. We best rezzzzpect the beautiful people...
So many heartz erupted from my stupid chest when I first laid eyez on
Makenzie the Beauty Queen
. And...like duh! You see that pearly white baby-teef smile?! It glistens! And her negligent, clearly uncaring mother best get her azz in gear. Did I hear your angelic daughter
bark
scream
volcanically belch
politely say that she was "
late for DiVa DaY
"?!?! Tisk...tisk...
Momma Makenzie
, you don't let a beauty queen EVER be late for DiVa DaY!!!
Sure, she looks like a strung-out
Katie Holmes
[feat. eye bags galore!]
, acts a bigger diva than
Christina Aguilera
and soundz like
Lindsay Lohan
after a pack or six of cigz, but in some eyes
[read as: in

my

eyes]
, that's what computes as BEAUTIFUL! Cover her puss in some cucumberz & melted Hershey Kisses and, yep, I'm in love! Swoon City...hear I come!