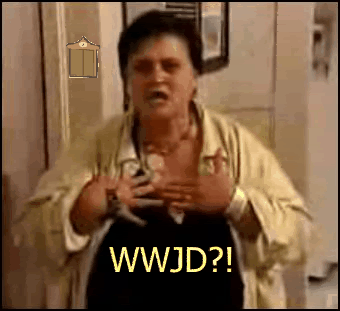 The God Warrior


I've been saving this goldmine of unlimited shiny happiness since I started doing deez

Monday Muse

installmentz. I mean, for serial, is there anything more inspiring than watching someone profess their undying faith?!

Yes, listening to "

Firework

" on repeat after you've had a bad day @ work and you start bawling on the subway

NO!

I think we all need a little more angelic guidance in our lives. Like

Mandy Moore

wisely once said, "

all you gotta do is have a little faith

"! And there is no better teacher in the art of pure & loving

[read as: loud & potentially violent]

devotion than dis week's

Muse

!


Trading Spouses is a brilliantly constructed social exxxperiment [read as: fucked up exxxploitive reality TV show] that takes mommas from two completely different families, puts them in each other's houses and then lets the cameras roll as the shiz hitz the fizz.

And The God warrior is by far the most infamous and glamorous of all da wivez that have ever been switched about. Our Jesus soldier had to spend a week living with some free-spirited, open-minded non-Christian family (poor girl!) and her retelling of the surely Lucifer-inspired hell she went through is HeArTbReAkInG!!

GARGOYLEZ! PSYCHICS! TAROT CARDS! MOONS! WITCHBOOKS! The God Warrior was put through the ringa, and all she needed was for us to pray for her. And did we?! NO! We should all be ashamed of ourselves! She's been sayin' & preachin' & prayin' & sayin' the w3rdingz of Jeebuzz and I think it's high time we listen!

Who needs a well adjusted mind & a reasonable body fat percentage when Lawdy Lawd is in your heart & (deranged) mind?!

Oh...you think all dis "dawk-sided" blabbering is just for show? You think she didn't really rip up her prize moniez but instead just a rando piece of junk mail? Well take a pick at THIS HURR clip and you'll see how overcome with the barbaric/non-Christian lifestyle of her foster family she really got [read as: the dryer brole & she pretends sumfing smellz bad].