Last weekend I woke up to find all three of my beautiful feline babies sprawled out on my bed
[feat. crushing off any blood circulation in my legs]
. Aside from the numbness setting into my feet, I couldn't help by tear up a bit when I looked down @ mah
Mowgli
,
Hermanita
&
Baberz
as they snoozed away on the lifeless slabs of flesh I once called my legs.
I was hit with a sense of pride that
I hadn't somehow killed them within their lifespan
they had all matured from cutie pie boobaloo kitten-totz into a full-fledge meow festival cat parade army brigade! Since I suction violently onto
any
chance to reminiscent and be nostalgic
[feat. a hint of reflective meloncholy]
I started looking through some old pix. And look what the fuck I found...

Yes...I know. Your eyes instantly esssplode too? Back when I graduated college (Spring 2008), I moved into mah friend Shawn's house and wiffin the first two w33ks, we acquired two tiny day-old bundlez of kitten joy. My prezzzzious Mowgli & Hermanita were once sooooo small that you could fit both of them in the palm of your mano!
But alas, baby animalz can't always remain itty bitty enough to fit into a boot. They grow up! And just like a motha has to watch her infant child get older [feat. force that greedy mouf to quit the nip!], I watched my unstoppable kitten duo evolve, grow and eventually start sexifying each other like dirrty effing whorez mate to create more felinez to fill the world wiff!
They are gonna be thr33 yearz young which is prox 27 in cat yearz [aka I made that up] this May...look how far they've come!!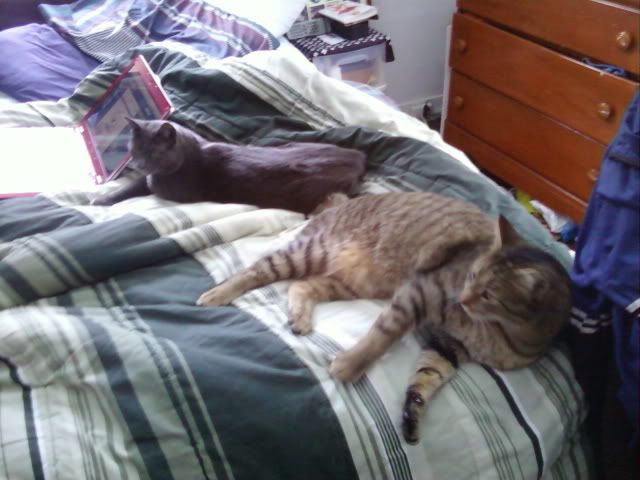 Just like their adopting daddy Hermanita & Mowgli LURRRVE spending their weekend mawningz lounging in bed, listening to pop music and blogging about shiz no one givez a fart about. But they haven't just carried on my personality and given me companionship in timez of utter
overdramatic, self-imposed
loneliness
[read as: 90% of mah time]
, they've also given me
another
fluffball on unimaginable joy to squeeze and smother with
my overbearing obsession
love...
...
Baberz
!!!
I know that many of you [read as: Jere & Polt] might find this post tedious/pointless/melodramtic, but waking up that morning, drowning in a sea of of cats that I myself raised, really got my weak little heart a-chug-a-lugging into overtime. I leave y'all now with three of mah favorite things in the entire world: Fla-Vor-Ice, Dreamgirls & "Regerishonishes" Mowgli, Hermanita & Baberz!