YAY! I know you've all be anxiously checking
Josh Is Trashy
everyday to see when the much-anticipated
GIFT EXCHANGE
fotografias would post
(and I really do appreciate the boost in mah view count aka mah reason for breathing)
! I was afraid that after the overwhelming tsunami of success that came with
last year
's gifting experiment that
this
year might pale in comparrison. But
as with most things I say & believe
I was wrong!
Well, wiff da help of the beautiful & elegant & organized BEST PERSON TO EVER EXIST IN THE ENTIRE WORLD EVER
[aka
Michelle
!!! EEEEEEEEE!!!!]
, I am bringing you the cyber
Josh Is Trashy Holidaze Fiesta
!!
Let's start with
the snoozining
and get to the show 'n' tell pictures!
ADAM!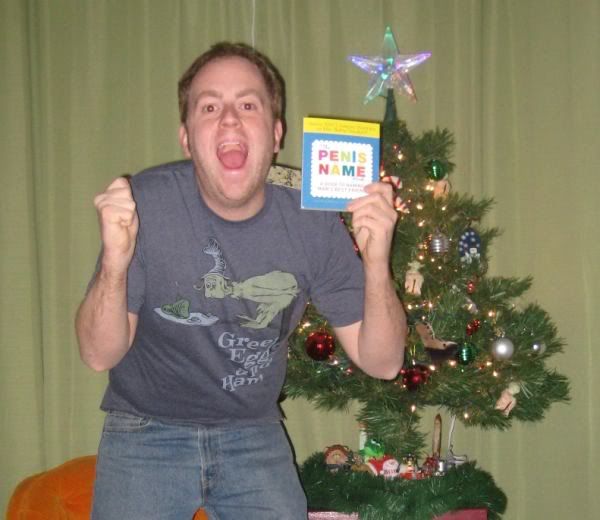 Craig

sent me some awesome gifts! I'm now the proud owner of a Green Eggs & Ham t-shirt and the literary masterpiece, "The Penis Name Book: A Guide To Naming Man's Best Friend." He also sent a laser pointer for

Spring

. She loved it! THANKS CRAIG!! :-D
JERE!
Corey

sent me "Matchless" by Gregory Maguire, the author of "Wicked." The book is a retelling of the Little Matchbook Girl story that is both sad and heartwarming. I read it to my nieces and nephews while visiting them for the holidays and had to choke back tears while they squirmed to go do something more fun.
HEATHER!
M. Nico

sent me a book called "Knitting Nature," which has all these funky knitting patterns AND a bunch of math. I love it -- it's a perfect present for me. (This photo also features our cat Baberz Ria, who's having a good morning, Godzilla the knitter, mini-G, and our 10-year old, who is pointing to the abbreviation for Bind Off and laughing.)
FDOT!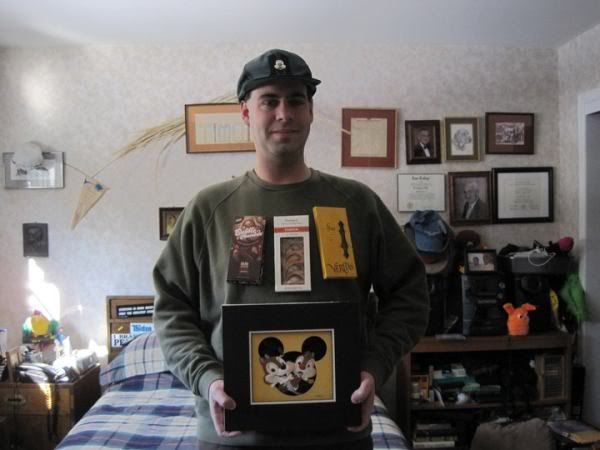 My gifter was
John
. After shoveling the package out from under 16 inches of snow, I opened it to discover this amazing picture of Chip and Dale. It's sort of a 3-D layered image and is now my prized Disney possession. Even better, when I go to sleep at night, they come to life and talk to me. I also received *three bars of delicious gourmet chocolate. Nom. Nom. Nom.
*bars consumed immediately after picture.
PAUL!


Josh
very cleverly combined my advanced age and my love of sci-fi to find me a excellent book I affectionately refer to as "My Bucket List".
I also loved the home made Christmas cardboard!
[Josh's EDITOR'S NOTE: Not shown is the awesome holiday celebrity collage on the other side of the cardboard!]
POLT!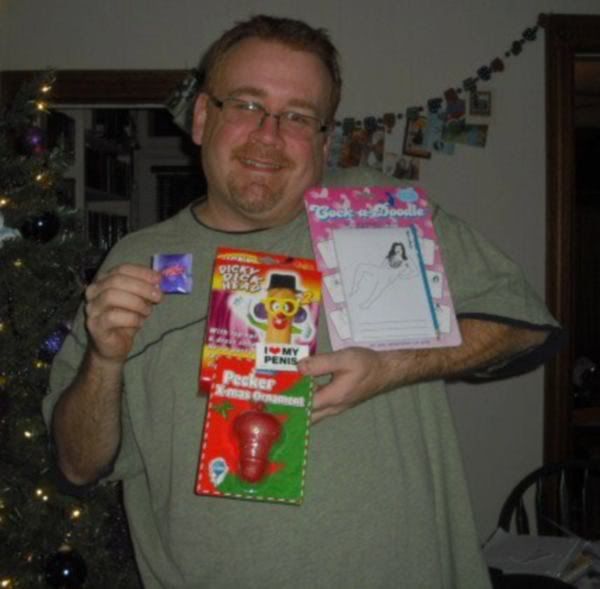 I got my gifts from the lovely and gingery
Adam
! First of all, they all came wrapped in awesome red/green Christmasy Superman wrapping paper! I got a "Cock-A-Doodle Pad" which is a notepad with drawings of naked men on them...but sans gentialia. So whilst I'm on hold on the phone, I can draw in any kind if willy that suits my fancy. I got a "Dicky Dickhead", which is the naughty cousin of Mr. Potatohead, cept that he'd a dick. I got a Penis Christmas Tree ornemant, which of course NO Christmas Tree should be without. I got a pack of mints the size of a matchbox with the words "I
(heart)
my penis" on it. Who knew someone made a box like that with EXACT sentiment that runs through my head???
MARCUS!


My gift exchange sender was

Heather

. I received soda cracker candy, a bacon wallet & Cranberry Tex-Mex salsa.
MICHELLE!
My perfect gifts were from
Talita
. She sent me heaven in a little gold box
(which I did not share with

Harry

)
. And this fantastically cute Wonder Woman mirror which reveals my alter-ego when I look into it. Thank you, Talita!
COREY!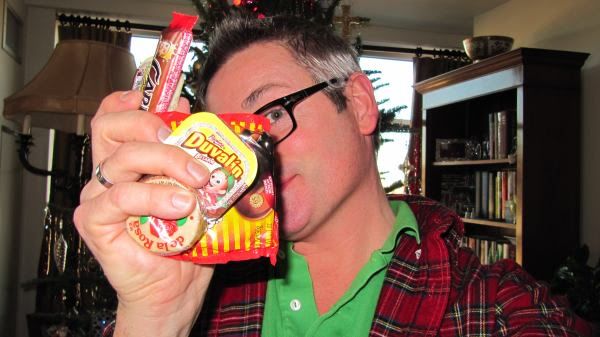 I found out my 'Secret Santa' is

Mush

from Walla Walla, WA. She sent me some fantastic Spanish/Mexican chocolate candies and goodies. Some of which I have never heard of. I'm having a great time sampling them all. But the most special thing about the present is that she wrote in the attached Christmas card that she made a $10 donation to one of my favorite charities that I support: Room to Read. What a great gift!
JOSH!


FDot
is obviously an educated man who spendz his time wisely reading important interweb publications like
Josh Is Trashy
! And his dedication frrrealz paid off
(in mah favor)
! He musta been taking notez as he read, for he knew that two of mah favorite
singaz
people ever are
P!nk
&
Jared Leto
. Now I can become the #1 P!nk exxxpert
(if I wasn't already)
by reading her biography while taking restive breakz to stare longigly @ a poster of mah rawkstar twin, Mr. Leto! LOVEZ IT! MUCHAS GRACIAS!
RYAN!
Chris D.
sent me "The Science of Cooking" and a GIR ornament.
DAVE2!
Polt
sent me this awesome Batman shirt. Now I strike fear in evil-doers wherever I go! It's pretty awesome... even though I don't have the muscles to fill it out properly. It's tough to take a picture since the shirt makes me all stealthy and stuff but, luckily, my Bat-iPhone was up to the task!
ENRICO!
For the trashy gift exchange I got a big box full of presents! I got this sweet flannel hoodie, the novel "The Tin Drum" from Nobel Prize Winner

Günter Grass

, and chocolate chip cookies! As an English major, I've heard a lot about Grass and am excited to finally read one of his books. I even got a bookmark feat. some old lady who used to be a famous singer or something but then she stood on a grate and her dress blew all around and then she died of an overdose. Thanks

Paul

!
M. NICO!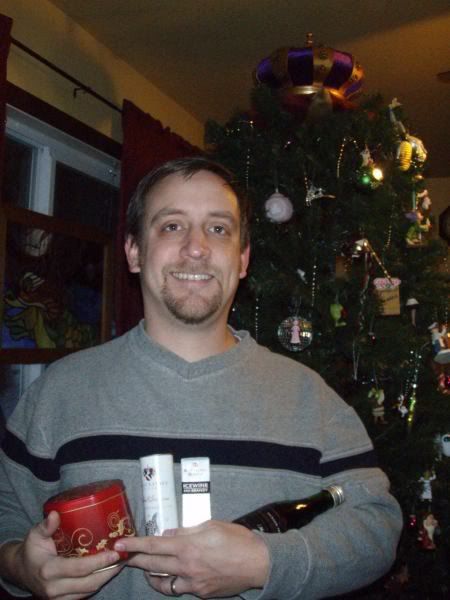 The unbelievably awesome
Tam
sent each one of the
Spawn of Nico
a small lunch box filled with goodies which they absolutely loved, especially the mittens
(SoN#1 even wore them to bed, a mark of honor reserved for his most cherished possessions)
. Next is me with a selection of fine Canadian Spirits, in miniature! Tam also sent a selection of delicious cookies, which did not survive long enough to photograph so I am just holding the empty tin! But that's not all! Tam also sent a Canada t-shirt, which my wife immediately claimed as hers as she is originally from Canadia herself. I can't express how much I loved this gift, Tam is the best!
TALITA!


I received Bubble Bath and a bath pillow from
Jere
, This is a great gift because I love to take baths!! :o)
MEL!


My gift came from
Dave2
and is a shrink-wrapped gift package from where he lives - Cashmere, WA - which is in the apple-growing part of the Washington's desert country. I am totally psyched to cook up the apple pancakes and drench them in the boysenberry jam and apple syrup. The fruit jelly & nut candies are kind of weird but already half gone, and the Walla Walla onion mustard made me think of Mush, who lives in Walla Walla. I think she and Dave need to meet up in IRL, because I'm pretty sure they're geeks of a feather.
CHRIS D.!
David P.
was my gift giver. He gave me the most amazingly serious pickles I have ever experienced, a relaxing Celtic music CD, and awesome Allegro tea.
CRAIG!


My gift
(actually, GIFTS!)
came from the illustrious
Mikey
! I got Christmas-colored argyle trunks
(is that what the kids are calling short as hell boxer-briefs these days?)
, Christmas-colored argyle socks, and the ultimate geek pen! Seriously, that's what it's called! It comes with a laser pointer, flashlight, UV light
(to check for counterfeit bills!)
, oh yeah, and something to write with! It's amazing! Thanks Mikey!
JOHN!


I received my gift from
Enrico
! Enrico sent me "A Short History of The Honey Bee" book, which has some great photos and information on honey bees. As mentioned, this totally feeds my inner geek. The book has some great information and fantastic pictures. He also sent me lovely card and a gift certificate to The Home Depot that came with a pop up card of its own! It is soooo cool! It appears my relationship with The Depot is going to continue, but hey, I can stop any time. Really, anytime I want. Thanks for the great gifts Enrico!
DAVID PASTELNEONCAKE!


TAM!


I got this amazing hand knitted hat
(which just happens to match the shirt I'm wearing)
and will keep my brain toasty as I have to walk from my parking garage to my building at work. I also got two chocolate bars from Coastline Confections and we got two gorgeous jars of jam, Maine wild blueberry and raspberry peach champagne, also from a company in Maine. Thanks so much
Mel
, I'm looking forward to breakfast so I can have toast and jam.
MIKEY!


From the fabulous
Michelle McKee
, I received a cornucopia of amazing things! I don't know how she knew exactly what to get me! I got a delicious block of cheese and heavenly crackers to eat it with. Naturally, I ate the cheese all at once and nibbled on the crackers over the next few days. I also got the "Gourmet Christmas Cookie Cookbook," which is perfect! You can now all expect homemade Christmas cookies from me next year! Michelle must also know that I like to drink because she gave me glass markers in the form of twelve friendly party people. However the pièce de résistance was my very own framed photo of

Justin Bieber

. I will now sleep easy knowing he is beaming back at me. Rounding out my box of treasures was a chocolate bar, some jelly beans and candy canes! Thanks Michelle!
MUSH!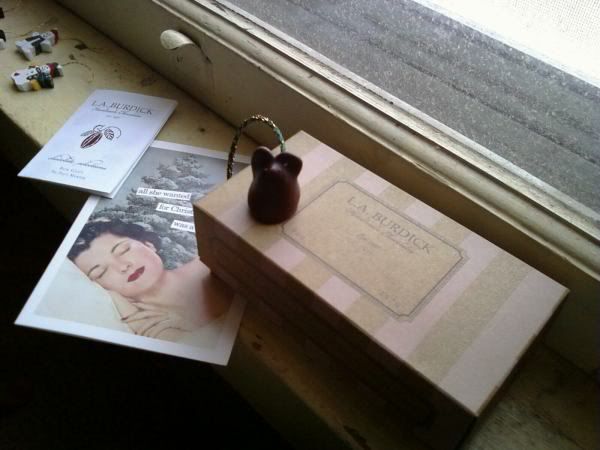 From
Justin
- OMG THREE FLAVORS OF CHOCOLATE TRUFFLES SHAPED LIKE MICE OM NOM NOM NOM NOM -- um, yeah,
those are totally gone now
.
---------------------------------------------
Okay folkz! There we go! The
Josh Is Trashy Bloggy Gift Exxxchange Supa 2010 Remix Splashdown in da Dangerzone Whirlwind Festival
is OVER! Time to put 2010 to bed and start slashing away at 2011 like a weed-whacker! Hope y'all had some fun...before we know it, nexxxt November will be on us again & we can do dis all ova again! Now if you exxxcuse me, I must reconfirm my ability to name all of P!nk's singles in order of chart debut and compare my facial expressions in the mirror to that of Jared Leto
(in mah desperato attempt to become his stunt double)
.
MWUAH MWUAH MWUAH TO Y'ALL!