Musical ABCs
are here again! Sorry for the delay...I was gonna post ova the weekend, but due to an obnoxious computer virus (more on that later) and my unwavering addiction to
Donkey Kong Country Returns
, I have had to postpone the entry until today. I hope y'all ain't too pizza-ed @ me! Okay...you may now share your magically miraculous and musically
magnificent
songs that start with that fatass letter,
Mr. M
!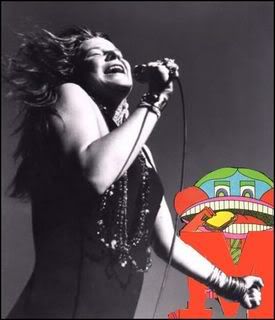 "Me and Bobby McGee" by Janis Joplin
"Feeling good was good enough for me."
Surprised? Didjoo tink I only dabbled in the musical stylingz of current *popstarz*?! Thought I didn't have an appreciation for the classic rock n' rollerz of yesteryear?! Well, to quote Kelly Clarkson, "You thought wrong"!
Not only is dis my favorite M song of all time, but it is also my third favorite song EVER of ANY letter (right behind my choices for B & J)! As we all should know, the fantastico Janis Joplin is one of the best singers that ever existed. Her voice makez mah effing skin crawl and shivers my bones to their very core. I am beyond saddened by the fact that she died sooooOOoOoOo early in her life and left us wiff only a handful of her tunez.
And not only is her voice perfecto, the lyrix to "Me and Bobby McGee" are some of the rawest and most heart-shredding I've ever heard! I want to have a busted flat in Baton Rouge! This tune was implanted into my skull back when I was still a wee little tot, and my appreciation for it has only grown and blossomed into a full-blown obsession as the years passed by.
runners-up:
"Maybe" by

Kelly Clarkson