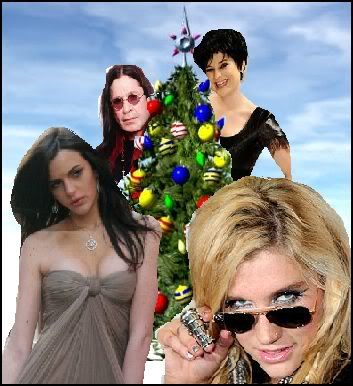 Well, well, well...it's that time o' da year again. Time for us to rape our forests, decorate sum treez, purchase discounted expensive crap for our lurrrved ones & enjoy the company of family y amigoz.
I know that there are a bunch of scroogez out there that whine & bitch about how lame Xmas is, but whateva...they obvz don't carry Christmas magic
[read as: a lot of booze]
in their gut on December 25th! I have just finished wrapping all of my family's giftz
[feat. Star, OK! & People magazine "wrapping paper"]
and I'm about to ship out to la casa de mis padres, but I wanted to bequeath to you, my bloggy audience, some interweb holidaze cheer!


So scroll below to enjoy some yuletide delights from Ke$ha, the Osbourne famile & of course, Ali Lohan.
Now if you can exxxcuse me, it's time to get drunk, eat & then open some shit. TANXBAIHAVEAGREATHOLIDAY!!!!!!
Ke$ha

[feat.

homeless person

]

|

"

Have Yourself a Merry Little Christmas

"
The Osbourne Family Christmas
Ali Lohan

| "

Christmas Magic

"