Did you have a shetty day today? Did werx get you down? Fight wiff a lurrrved one? Feel under-appreciated? Does your life sometimez seem like a swirlin' toilet bowl of frustration where things always seem just a touch too overwhelming to handle?

I know I've been quite melancholerz lately & I know that what wiff the recent spike in gay suicidez, that a lot of other peepz have been struggling through their livez as well. But what do I turn to when everything else in the world seemz mad effing LAME CITY?! MUSIC!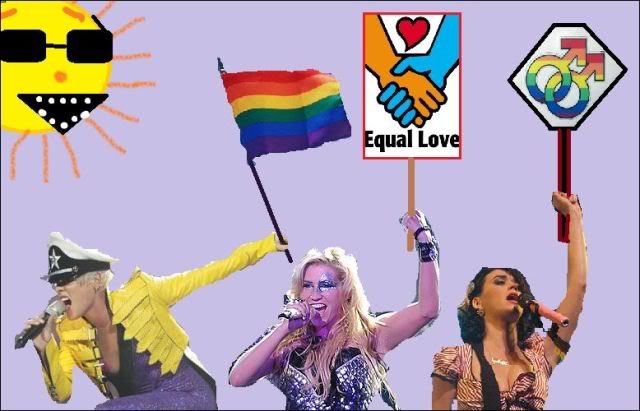 And luckily for me
(and after dis entry, you too)
, tres of my favorite pop *starz* have recently birfed some feel-good anthemz into the top 40 airwavez and I've found mahself locking down deez three jamz on repeat whenever I find myself in a rough spot. Partly inspired by the plight of da gayz,
P!nk
,
Ke$ha
and
Katy Perry
have given me
[feat. the world]
some hopeful tunez that inspire a brighter tomorrow and remind us all that WE ARE SOOOO WORTH IT! Check 'em out, PLEASE!:

"Raise Your Glass" - P!nk


Raise your glass if you are wrong in all the right ways!
Leave it to Alecia Beth Moore [aka P!NK] to make a song honoring all the under-dawgz [feat. dirrty little freakz] of the world. Never backing away from opposition, P!nk's latest top ten single (her 10th!) is an ode to being proud of all your quirky differencez and lurrrving yourself even if you're gay, a different color, overweight, a n3rd festival, a milk cow or whatever it is that peepz try and put you down for being. P!nk wavez all of our fReAk fLaGz high!

"We R Who We R" - Ke$ha
You know we're superstars.
Sure, peepz are saying dis is just another party-drunkathorn from everyone's favorite trashgrrrl, Kesha Sebert [aka KE$HA], but the song (that just debuted @ mothereffing #1 on the Billboard Hot 100!) was written after all those gay teens committed suicide last month. You may not know, but Ke$ha has prox a bajillon gay fans (DURHZ), and da song encourages anyone that feels ostracized to flip da bird to all of dem haterz and then get their nalgaz on the dancefloor.

"Firework" - Katy Perry


Baby, you're a firework. Come on, let your colors burst.
We all fell in lurrrve with summer thanks to "California Gurls." We all fell in lurrrve wiff each other to "Teenage Dream." But it seemz like dis year'z pop queen, Katy Hudson [aka Katy Perry] is now demanding the we LURRVE OURSELVEZ! Don't act like you didn't get all soaky-eyed when the fat cholita jumped in the pool or when the cancer kid smiled. Sheesh...could this song/video make my heart snap/crackle/pop anymore?!
-------------------------

So folkz...after listening to these hit jamz, do you suddenly feel inspired to take of the world?! If not then you best give them another listen!