Here we are folkz! Another round of

Musical ABCs

! Aren't you foaming @ the mouf with joy?! I know I am but it's largely cuz I gotz myself some ginger cookies con leche! Let's try and kick up the kraptastically kruddy komment kount we've had in recent weekz. Keep kalling out your favorite songs that

Mr. K

startz off for ya!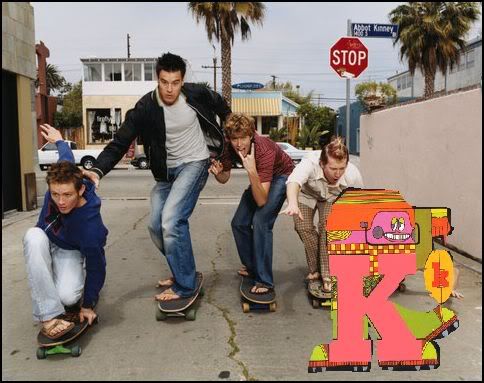 "Konstantine" by Something Corporate
"I'm slipping in between you and your big dreams."


My choice for dis week's Musical ABC is for deferishonishes the most epic song to be featured in my alphabeta-selectionz. It's prox 32 hourz [read as: 9-10 minz] long & is basically the psuedo-emo pop-punk band Something Corporate's opus. I first heard this painfully depresso espresso tune back when I was a freshman in college, and each line was respectively worn-out as instant messenger away messages.
I love to cry
(probably the 439,583rd time I've said this on mah blog)
and this song is just one gargutuan tear factory. Start blasting dis shiz and I need three jumbo towels to mop up the lake that forms out of my salty eye waterz. When I started my creative writing minor, I'd listen to SoCo
(as the kewl kiddoz call them)
all the time, especially "
Konstantine
." Cuz what better way to write effectively relatable yet endearingly personal werdingz than by listening to a band who
specializez
in such a songwriting style? I even tried to learn it on the piano. Then I realized that it is waaaaay beyond my capable talentz
(largely cuz I don't got no capable talentz)
.
It's one of mah favo songz ever and is best listened to right after your heart is broken, while you stare @ long-long-ago fotografias of you and your ex-significant other with half a bottle of wine in your gut and enough tissues to clog the San Andreas Fault
(trust me...I know from experience)
. Then you awake from your
"
Konstantine
"-coma, call up your best grrrlfriendz and eat pint after pint of
Ben & Jerry's
[aka sadness medicine]
. Broken heart mended!


runners-up: