OMFLIPPIN'GAWDERCOPTERSKATEZ! We are down to the last semi-finalz death match before the nexxxt round in the Monday Muse of 2010 Showdown! Next week we'll take the five top vote-getters from the past month, and dump their azzez down into a lion pit of d00m. Each week we'll eliminate another until we're down to the ONE MUSE TO RULE THEM ALL!


And could one of dis week'z Muses be the champion of 2010?! I DON'T FUCKING KNOW YET! Both of these week's assholes inspirations taught us a great deal about ourselves. One learned us in how to cope with loss and how we should never give up hope (or some shiz like dat). The other gave us a birds & beez lesson in how our sexuality blossoms into importance once we hit puberty [read as: get horny over some douche].
Which one meant the most to YOUR life?! Which can't you live wiffout?! Get ur vote on, ho.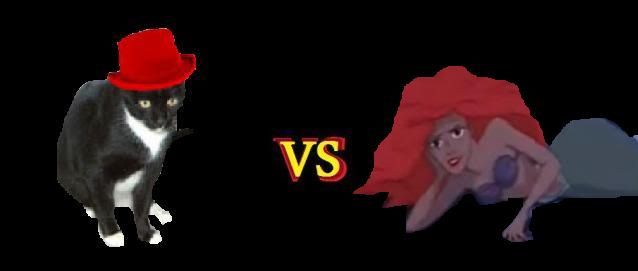 Missy the Cat vs. The Dirrty Little Mermaid


The Monday Muse of September 2010: Missy the Cat - the long lost inspiration to all of our dreamz
The Monday Muse of October 2010: The Dirrty Little Mermaid - the outspoken undersea songstress with a libido that could cut glass
VOTE VOTE VOTE! BANG BANG BANG! (that's me shooting at your hoovez until you get your rump into that election booth)