Things are for def def defferz kicking up in the race for
Monday Muse of 2010
!
The outpouring of votez makez me feel like all this time I
waste
dedicate to mah silly little blog is really worth it. I remember back when
no one
commented on my shit or even came to my site...you all
::wipes fake tearz away while pretending to cry::
make me feel like the luckiest betch in the world...
...Okay...pull your crapz togethers...you gotz a jerb to do. And that duty is to introduce dis week's competitors.
Both of deez Muses entertained my gringo azz when I was just a tot. They remind me of a simpler time when all I had to worry about was playing wiff mah toyz & watching uneducated loud-mouf strangaz on TV get berated for simply existing.

I hope you ate your Wheaties dis mañana, cuz you're gonna need to concentrate hard and pick which Muse is the better muse...here...they...COOOOOOME!!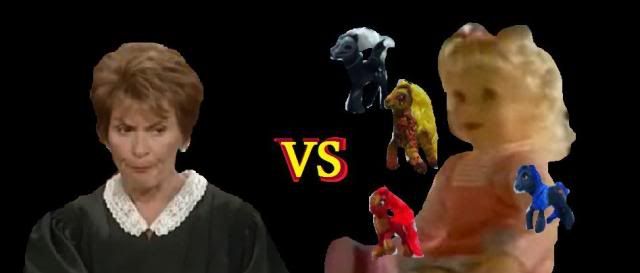 Judge Judy

vs.

Awesome Toyz

The Monday Muse of May 2010: Judge Judy - deliverer of sassy judgement wiff a side of venemous spitfire

The Monday Muse of June 2010:
Awesome Toyz
(click link for additional vidz)
- the building blocks of ur childhood happiness
[feat. corruption]
Alrighty, you beautiful sunofa-sunofaz, let's see which how man
(or WOman)
you really are...can you make dis tuff decision? I don't think so. Oh...what's dat?? You
can
?! Well...prooove it. Let's see this poll burn-up!