What are my two favorite things in the whole world? Complaining about my life & being jellerz of peepz that have more $$$ than myself Pop music & cute animalz...DUH!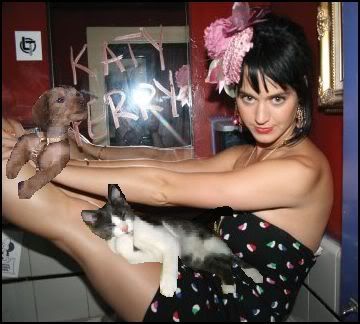 And as we're all aware,
Katy Perry
is the "
new queen of pop
." And as we also all know, mi gato
Baberz
and my god-child puppy
Penelope
are two of the most adorable things in existence. And what is the best way to exxxpress your never-ending love for something?! Singing delicately of your adoration to your loved onez
[aka SCREAMING into their ear holez]
!
So that's why I am presenting all you bloggy peepz wiff some home videoz of mine where I gush over the animalz in my life that own my heart. Try not to fall
TOO
in love wiff me. I might have a dreamy voice, but I am a soul-crusher. Trust me!
"

Teenage Dream

" [feat.

Penelope

&

Mariel

]
"

Teenage Dream

" [feat.

Baberz

]