...I really deserve it. I mean...I try and post at least tres dias a week, regardless of mah crazzzy work schedule and whether or not I have anything at all decent to fart in your direction. I try and make my blog list roundz at least twice a week and sprinkle derrrriciously thoughtful commentz about. I spend hourz and hourz slaving over my laptop, JUST TO MAKE ALL OF YOU BITCHES
like me cuz I am really insecure and your comments really do mean the world to me
HAPPY! And what do I get in return?! NOTHING
[aka lotz of lurrrve/attention/support]
! Goddamn you all the H-E-Double Hockeystix!
Okay...so I am for obz joshing wiff all you beautiful bitchez. I love you all and you're a great audience and tank you, tank you for consistently reading this crapfestival garbage I pollute the interwebz wiff every week.
And since it's largely cuz of you readerz that I am still so dedicated to churning out postz, I wanted to make y'all a little more of a permanent part to Josh Is Trashy. So that's why I am asking all of those who are innnnerested to send me a drawing/picture/Photoshop masterpiece that represents the theme and message of mah little slice of cyber heaven [aka I write like an idiot and bitch about the world, make fun of online shit & talk insessantly about pop culture].
When the new year rollz around, I'ma work on incorporating all the submissionz into permanent residency somewhere on my site. Need an idea of what I'm loooooking for? My sister's fiance John already sent me one: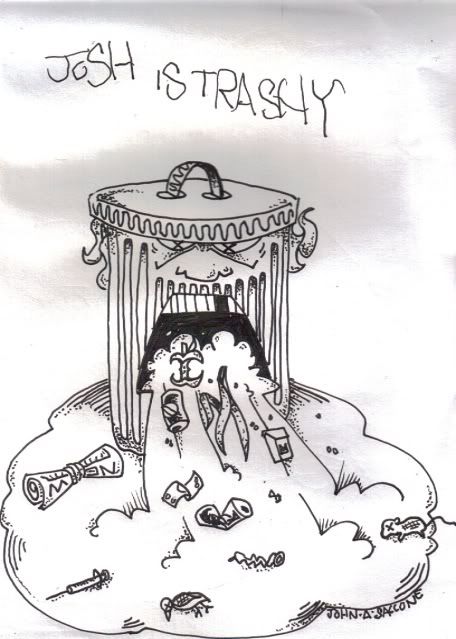 If you wanna submit...send your glorious artwerx to
DIS HERRE EMAIL ADDRESS
.
MWUAH!