I forget how old I am sometimez. I'm used to everyting being so immediate in mah life...all of my adventures and interestz are supposed to be recent knowledge. But as I pass the 24 and a half yearz mark en mi vida, I'm beginning to realize that there are more and more things from my past that folkz just a few años younger than me have no recollection of.

Por ejemplo: At the restaurant last year I was talking about R&B/Hip-Hop sensation
TLC
(RIP Left Eye!)
, and a co-worker who was five yearz mah junior, was all lyke "
WTF is TLC?! Da Learning Channel?!"
Then I punched her in the teefz
[read as: sang "No Scrubs" repeatedly for 45 minutez].
I went home that day utterly perplexxxed @ dis chica's ignorance, until I realized that it wasn't she who was miseducated. It was I who was getting old as fuck! Then I started looking through all mah albumz and came across a collection of bandz from the '90s/'00s that were **superstarz** back in mah youth, but have since fallen into obscurity. My heart goez out to Third Eye Blind, Counting Crows, Everclear, Collective Soul & many otherz who hit it big for a few yearz only to fall into the shitter later. I then came across one of my most played CDs from yesteryear...Vertical Horizon's Everything You Want!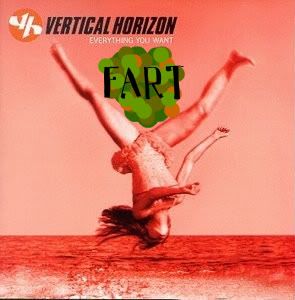 They had a trio of hitz that will forever be burned into my memory. They were tap-dancin' all ova the
Billboard
charts and their hugest hit "
Everything You Want
" actually peaked @ #1 in 2000
(holy nutz, that's a DECADE ago)
! But after this success, all their subesquent albumz sank like the
Titanic
and they disappeared faster than audience memberz during a screening on
I Know Who Killed Me
.
So to honor Vertical Horizon and all the other hasbeen bands that I still get all nostalgic and weeptastic over, I thought I'd risk mah life wiff another negligent round of car karaoke. ENJOY!
"You're a God"
"Everything You Want"