So sorry I've been slacktastic recently.
But since my last

Musical ABCs

entry produced ABYSMAL resultz, I've fallen into a deep dark bloggy depression tunnel that has been nearly impossible to scratch and claw my way out of
But since my work was crazzzy mania da past few days, and what wiff all that
music festival bizznezz taking place in NYC all week, I've had barely any time to even do the most essential tingz like bathe, sleep and watch
Adult Swim
!
But I come to you now, folkz...looking for solace and therapeutic understanding...for I have witnessed an act so disturbing, that not even
Polt
will be able to joke at the expense of my tarnished virgin ojoz!
While leaving work on Tuesday, I headed down to the usual subway station by my office building and walked to the usual platform to get on the usual train that I take to
David
's usual apartment. But sumfing was
un
usual that day.
A crowd of grumblin' New Yorkerz were "ha-rumphing" about in front of the two Metrocard turnstilez and slowly pushing their way through just one of dem. Being the
impatient and easily annoyed prick
eager and inquisitive young whippersnappa I am, I moved through the messy crowd of peepz to see why the second swipe-entrance wasn't being utilized. And I came face to face wiff dis:
[Artist's note: whorez in above photo are 10x more attractive than the real-life slobz they are depicting]

I've
fantasized about having
heard some peepz enjoy doing the nasty sausage shuffle in pubic
(spelling mistake, but it stayz)
placez and that the risk of getting caught is a turn-on or some crap like dat, but isn't
this
a little exxxtreme?!
While I find cold, dirrty metal
[feat. movable partz]
to be as comforz as the nexxxt person
[aka

not
comforz @ all], I fail to see the allure of getting all makeyoutey and infiltrating your secret zonez in a public subway turnstile at the end of the workday.
What was even more innnnneresting than the fact that deez two lovebirdz
[read as: horndogz]
felt the urge to go baby-making in such an odd location, was that
no one
else in line said a word to them or told them to cut it da shit out or to get a hotel room or whatever. And I was most definitely not going to be the one to demand them to move
(though I did worry about all the sexxxy diseases they were getting from slathering all over the poor unsuspecting turnstile)
!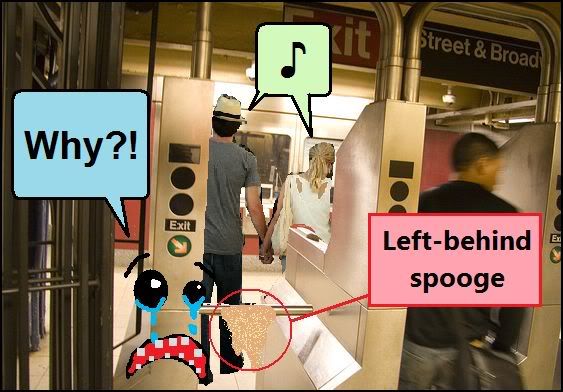 Have
you
folkz ever engaged in intimate naughtiness in outta-da-ordinary locationz? Ever discover a couple in the process of "bread-baking" in something
other
than a bed?! Share your JuIcIeSt sToRieZ!!!