I know...

Ms. I

is a haaaaaawd letter. There are prox a bajillion songz that begin wiff the word "I." Myself, I have 168 songz that begin with just a lonely "I"! And that's not including every "In," "If," "It" and all the other werdz that begin wiff da vowel! Incredibly indecisive, it can be impossible to intelligently include only a handful of songz that begin wiff dis letter that are better than da rest. But think, think, THINK and decide which tunez are inches higher above the otherz!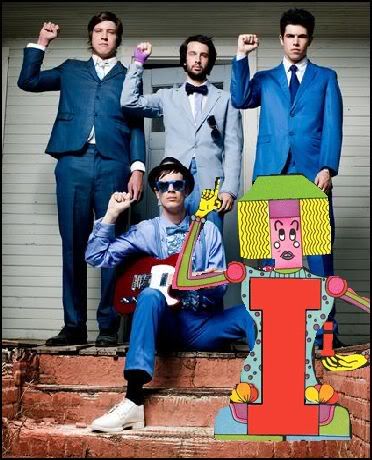 "If You Wanna...I Might" by Hellogoodbye
"Sometimes I wish I could be the one fish that you'd choose out of all in the sea."
This is probably the most upbeat and fun song that will make my ABC list.
Hellogoodbye
are one of those silly, loud, sodapoppy goofball bandz that make music that soundz the way
Sour Patch Kids
taste. I played the fartz outta their records when I was in college and "
If You Wanna...I Might
" was totez mah most played jam of theirs!
I made it a point to take advantage of the jogging track that mi universidad had on its campus, and I'd try and go running three-four timez a week. And dis herre jam was for usualz the first tune I'd start blaring to get my azz in gear. The beat is addictive and is purrrrrfecto for the stride in which I gallop! ::trot, trot, trot::
Hellogoodbye came to my college during my sophomore year, but sadly they didn't bust this sugary sweet confectionary pop masterpiece out. But it's aight, cuz the lead singer has got it like dat is a cute n3rd parade and his band puts out musica that violently thrusts mis nalgaz into a happy dancy frame of mind whenever I am feeling especially mopetastic.