Hooray! I hope you're all happily hopping in your computer chairs hoping to have a hum-dinger hi-howdy adventure on mah blog today. If you couldn't tell from my desperate/pitiful attempt to use a bunch of H-words in one sentence, it's time for everyone to share their favo songz that feature the sick-looking Mr. H!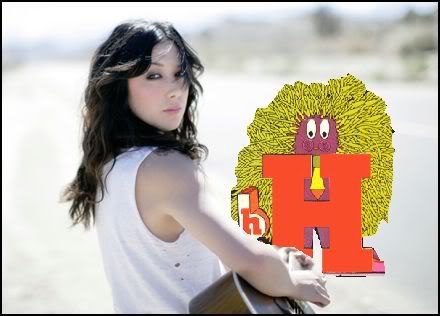 "Hotel Paper" by Michelle Branch


"You turned out to be more than a bargained for."
She was the proverbial key too all of mah lonely/angry/melancholy/infinitely sad high school emotionz. When I first came across Michelle Branch, I felt "Damn...finally someone understandz how mean & twisted boiz are and how love is da center of all misery and pain." Sure, I was just a 16-year-old closet case wiff an affinity for crushing on hot st8 d00dz [note: not actually hot now that I reflect on them] and letting my heart be bruised seven timez a minute by ever little ting that farted mah way.
After I would cry my way through school, I'd gallop home, throw my weepy ass onto my bed and blast M. Branch while scribblin' her werdingz all over my notebookz imagining myself singing one of her numerous hopelessly romantic balladz to all ThE GuyZ wHo DiD mE WrONg In Da pAsT. Then I'd forget to do my homework, fail all my classes and then be depressed about that as well! YAY!
So Michelle Branch was kind of like a third older sister for me. Always there to relay to me her own personal stories of lost innocence, virginal desirez and other girly crap like dat. The day she released her second album, Hotel Paper, mi amiga Laura & I sprinted outta skool when the bell rang and raced on over to Best Buy. We went up to the register wiff 4 copiez of the album - one for each of us and the other two for friends with upcoming birfdayz - and giggled like schizophrenic hyenas when the check-out cholita gave us the stinkeye.
That entire album [sans a really mediocre duet with burnt-voiced Sheryl Crow aka one of mah least favorite singers of all time] is epic to me and the title track is especially poignant. It's all about being on the road and suffering through an endless case of the sadz and lurrrving d00dz that don't lurrve you back. HEARTBREAK = LOVEZ IT.
I went through a phase where i was absolutely convinced that once I turned 18, I was gonna get some song lyrix inked onto my bod. And I had planned to [read as: dreamt about wiff no real intentionz of committing to] get a line from dis herre song permanently jotted onto my wrist: "I lie lonely surrounded by you." But then I came up with a list of 58,923,536 other songs I just had to have tatted on me and since I am not as attractive as Mr. P!nk [aka Carey Hart], I decided to drop the whole idea.
But I haven't dropped Michelle Branch from mah vida altogether! I am anxxxiously awaiting new music from her and very well might shrivel up y die if she doesn't get a new album out SOOOOOOOON! The wee little sad puppy teenager inside me NEEDZ IT!