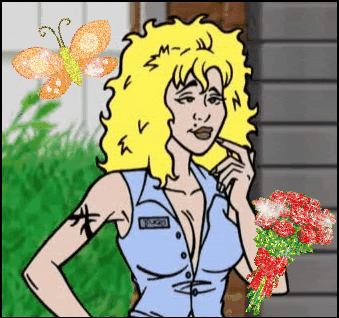 Dusty Gozongaz


Remember the first love of your life? The first person you laid eyez on and had your dumb heart skip a thousand beatz for? The first person who had you at their beck and/or call? Their desires and cravingz were yours to fulfill...they were the center of your world and you were wrapped around their little pinkie finga...

I don't. But for those of us out there that haven't spent an entire weekend listening to

La Roux

's "

Bulletproof

" on repeat in a delusional attempt to self-affirm your personal strength

(it didn't work...I'm still a wimpy baby)

, I'm sure you can relate to the feeling of being completely blinded by your love sickness. But even though I'm a cold-hearted icicle prince, when I first caught a gander at dis week's

Monday Muse

, I must admit that my frozen heart did start to thaw an eensy weensy bit.





Be careful...
Dusty Gozongaz
should not be taken lightly. Sure, she may seem like the ideal lady what wiff her beauty, grace, style &
intelligence
breastz, but she isn't
actually
into you! Heartbreak City, I know...I think she was what
Nelly Fartretardo
was singing about in dat "
Maneater
" song.
The main reason I stay away from elegant establishmentz like
The Wild, Wild Chest
,
Crotch Town
,
Nipple Hut
&
FunBag Junction
is becuz I know the second I see a gorg specimen of the female gender basting her loinz all ova some dirty-ass stage, I will fall in lurrrve, jump the gay fence and empty mah back account into whore pantiez.
Women are a dangerous flock of beingz...they'll take everyting you have and as soon as you're broke as a joke, they'll up & run away and leave you wiff nuffin' but broken dreamz and a baseball bat in your undarooz. Or they'll leap out the window and dance for aliens that are inexplicably shaped like wrenches.