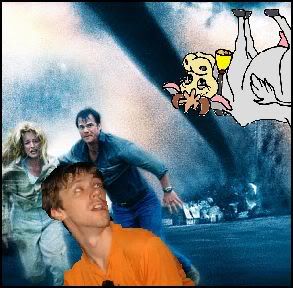 Nueva York
& its residents have a lot of shiz to deal wiff. High crime, pollution, terrorism, bed bugz, over-sized
marshmallow men
, hurricanez, rude people, having their asses killed via high-budget Hollywood
disaster flicks
(and within the year, ME living there!)
...New York doesn't seem to get much of a break. That's why I have to take a moment to flip the bird 3 times up @
Mother Nature
's st00pid puss for forcing NYC to have to deal with sumfing it usually
never
has to worry over: TORNADOES.
Last week, while on one of the upper levelz of the office building I work at in Brooklez, the sky became overcast and it started raining gatoz y perroz. Within five minutez, a co-worker ushered us all to a large window in her office and we watched
in awe
in utter fucking horror as a huge storm front started blanketing Brooklyn in misery cloudz!
The windowz began to shake violently and then God began to chuck baseballz of ice down on top of us. We all cowered under our deskz and counted our blessingz
[read as: shrugged our shoulderz and went back to work]
. Then just 15 minutez after it began, the storm ended. I didn't find out till later that a goddamn tornado touched down in Brooklyn, destroying property ripping up treez & even killing one person!
When I was younger, I was obsessed but absolutely traumitzed by the movie
Twister
and I would relentlessly badger my sister
Melody
(who shared a room with me)
whenever a storm would hit, thinking for sure I would get my azz sucked up into a cyclone. I'm still of a nervous mental state when it comez to that shit, so I beg of you, douchebitch Mother Nature, keep that crap in the midwest where it
belongz
. Geeeebz!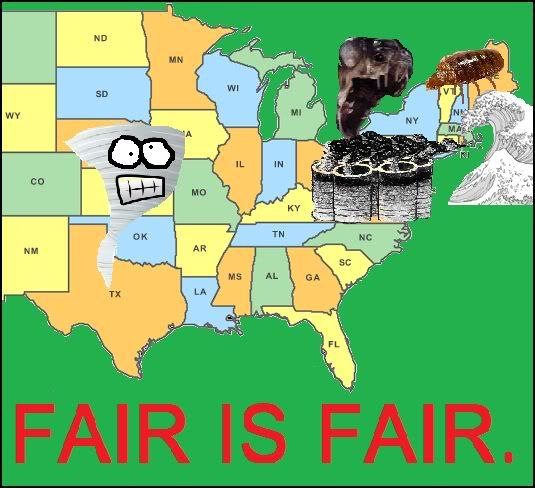 Want to see the aftermath of the storm?! Crazy shit...check out
deez fotographiaz
of all the damage. Have any of you bloggy readerz come face-to-face with a twister? Was it the scariest moment of your life?! Share your trauma with us!