Good golly! Our last installment of Musical ABCs was such a grand & gorgeous go-getting adventure that I am sure you're all going Lady gaga a googleplex number of timez in anticipation for the nexxxt gratifyingly ganderific entry! Let's get ourz groooooovez on gallivanting for our favo songz dat begin wiff Mr. G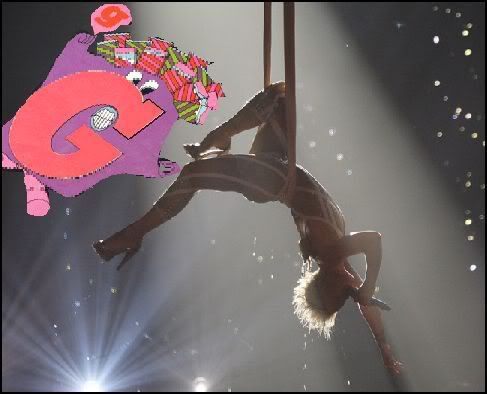 "Glitter in the Air" by P!nk
"Have you ever wished for an endless night, to lasso the moon and the stars and pull that rope tight?"
What can I say that I haven't already said before? As my favorite singer of all time, there is very little P!nk could do (not including one specific monotonous dance anthem that doesn't show of her talent & the one specific corny-to-the-point-of-physical-pain woeful ballad) to make me feel anything but a blinding adoration, rezzzpect & love for her.
Therefor it should come as no surprise to all you faithfully derrriciouz bloggy peepz that P!nk would nab one of mah Musical ABCs. If we back track two letterz ago to E, you'll remember that I went through a difficult relationshit and breakup that left me cold & ashamed, lying nakerz on da floor.
Well, before the break-up and back when I still plump wiff delusionz and I thought that mi ex-novio y yo could sort out our infinite problemz, I would play P!nk's "Glitter In the Air" on repeat. As the closing track to the brilliant Grammy-nominated (AND ROBBED) album Funhouse, the song poses a bunch of pensive and nostalgic preguntaz to the listener. And anyone that is a hypersensitive puffball of emotional nervez will know that dis herre is one of the best songs to listen to on repeat and cry to!
The bridge of the song is one of the main reasonz I started drinking coffee...just so I too could sit in my garden and watch my sexxxy & tattooed hubby walk towards me, clutching it, caaaaalliiiiing meeeeee "Sugaaaaaaaaaaaaaaaaar"! Sigh...a weepy crybaby douchenozzle a boy can dream, can't he?


Now enjoy the outstanding Alecia Beth Moore's flawlessly brillz live Grammy performance (no, she did not lipsynch. Spare me having to set you on fire and don't even bother saying she did):