So who is ready to take on

Mr. F

and fart out your favo fantastico songz that begin with his letter?! Favorably fill out the effing comment form and fabulously forward your fitting choices...PLEASE!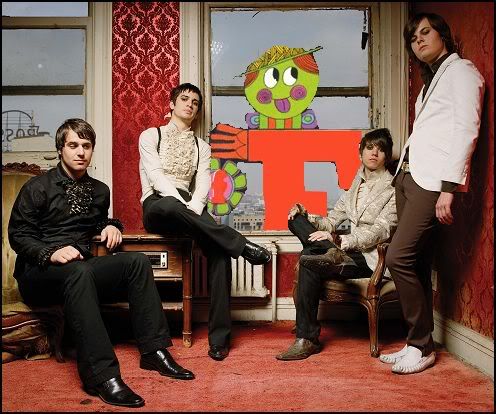 "

F

olkin' Around

" by

Panic! At the Disco
"

I'm putting out the lantern. Find your own way back home.

"
College came + went like a blurrrrr to me. And it wasn't just cuz I drank heavily for a large portion of it. There were a lot of great memoriez and I get occasionally mad nostalgic sometimez
[read as: will start to bawl hysterically, unprovoked, @ the mere thought of some mundane detail about those four yearz]
when I think about all the fun I had.
And scientistz have proven
(no they haven't...I just made this up)
that music is the #1 trigger for all memory based ponderingz! Dat's why there is a collection of five bandz that I listened to NON-STOP between the yearz of '04 & '08 that avalanche a mountain of reflective recollectionz when I hear them now:
Fall Out Boy
,
Motion City Soundtrack
,
Straylight Run
,
Coheed & Cambria
aaaaaannnnnddddd
Panic! At the Disco
!
They are part of that altrock/post-punk group of bandz that gets labeled as "emo" by st00pid artardz that don't even know what that word referz to. And while their first album
A Fever You Can't Sweat Out
was chock-full of the clever brattiness and obnoxiously long song titlez that bands in the genre started to become known for, their 2nd album,
Pretty. Odd
donkeypunched their critix in the taint by reinventing their sound to follow a more classical pop-rock song styling!
I was lent dis album the first time I hung out the chico who would later become mah best friend,
Enricoz
, and I fell in lurrrve wiff it on the first listen through. But it was "
Folkin' Around
" that really fish-hooked, gutted and fried my earz into submission. The
violin
fiddle, the ragtime beat, the lightly narrative lyrix...dis song is a hop, skip & a lightyear away from the music they
used to make
, and it's short length lets me never get tired of playing in on obsessive repeat!