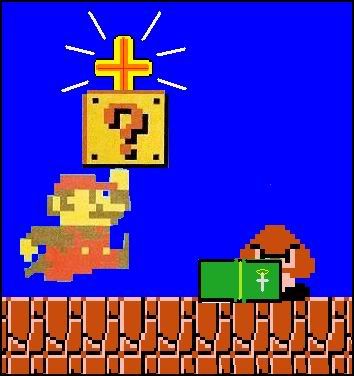 I only write about the things that interest me and avoid topicz that put me to sleep. Thus why the majority of mah blog postz revolve around pop culture, bookz & dumbazz
YouTube
videoz, and why politics, social issues & religion nary make an appearance. But after going through some heavy, tragic schtuff earlier this summer, I've found myself thinking a lot about the latter of those three usually-snorefest subjectz.
Religion has always been sumfing I've been aware of, but never cared enough about to ponder over. Everyone always wants to blab about it, warz are fought over it and people base their entire livez off of it, but I've always been deaf to it. The way I see it, I don't subscribe to any specific beliefs, but still respect (and somewhat admire) those that devotedly believe in their faith. However (just like
A Perfect Circle
), I roll my eyez a thousand timez @ peepz that blindly follow religion like an obligation.
I don't judge peepz that want to go to church, or study
this
religion or practice
that
religion, but I would hope that their hearts are fully committed, and it's not just sumfing they routinely slug off to like a familial tradition they secretly wish they could give up to. And I hope that they wouldn't judge me for
not
goin' to church, but instead watching an entire season of
The Simple Life
in one seating while taking
Fla.Vor.Ice
shooterz in mah underooz.
After losing a friend earlier dis summer, I started thinking about faith and I found myself listening to "
All Around Me
" by
Flyleaf
& "
Alive
" by
P.O.D.
on repeat. Both are Christian hard rawk bandz and while the songz are obviously focused on
Mr. Christ
, I still got some personal resolution from them. I found myself taking their messages of gratitude and perseverance and injecting it into my own life, without getting that awkward "
I'm not religious but some major God fanatic is lecturing me about sin and heaven and hell and trippy naked winged-babies
"-kind of feeling.
What about you folkz? Do you have a specific creed? If so, what does it bring to your life? If not, what is your opinion on organized (or
un
organized) religion?!