Sorry I haven't blogged in about a week! What wiff working, trying to maintain some sort of social life & desperately attempting to fend off some sickernezz, I've had little time to dedicate to this preciouz fartpile of mine on da Interwebz. But I come to you folkz today with a very important entry. One that could very well
mean nuffin' to anyone
change the future of humanity as we know it...
WHAT THE SHET AM I GONNA DRESS MAH AZZ UP AS FOR HELLOWEEN?!?!?!?!?
There are three roadz I could travel down in regards to costuming choicez. I shall exhibit these to you folkz along with exxxamplez of each, and I leave it up to your exquisitely astute and well-traveled
[read as: depraved & likely disturbed]
pointz o' view to tell me what look
you
think lookz da best on me.
1. Boring Traditional Costume Mainstayz

I
could
abandon all creativity and squeeze my fanny into some generic cop-out lame-o costumez that show nothing of my personality
(I have one, right?)
or style. Upside, though, this shit is e-z to make or find cheap at dolla storez, and since I am a frugalmeister, I might just opt for holiday disappointment and be a...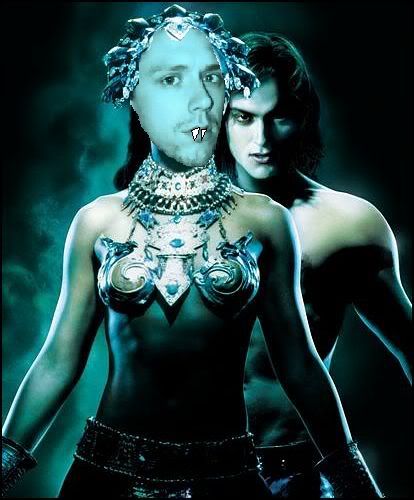 ...or a run-of-the-mill vampire
[aka a blood-sucker not affiliated with that

Twilight

,

True Blood

,

Vampire Diariez

fuckery]
.
2. Slutty Remixez of Normal Costumez
Maybe I'll abandon any of mah moral standingz
(don't laugh, please)
and staple some see-through swatchez of fabric to my privatez and cavort about as a sexxxyskatez prostitute. I could be a...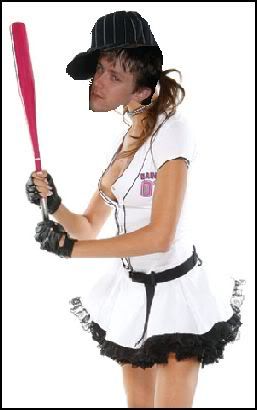 ...buoyantly brain-dead baseball supastar
(since I lurrrve promiscuity/sportz so much)
...
...or a well-respected
hussy
police officer...
...or a purrtastic sleezy pussycat.
3. Piss-Poor Celebrity Impersonationz
You know you're a big cheese when peepz start dressing up as your doppelganger for Helloween. And since I do pride myself in knowing more about popular culture than one person should, maybe I should swan-dive into my imagination and become someone famoso like...

...
The Situation
from
Jersey Shore
(since I'm not self-concious just taking my shirt off @ da beach)
...
...or
Woody
from
Toy Story 3
(cuz little kidz don't constantly peeve me off)
...
...or
Katy Perry
(DUH)
.
--------------------------
So whatchutink folkz? I need your wise guidance! What do
you
think I should be? What will make me a HalloWINNER instead of a HalloWEENIE?! If you don't give me any input, I'm just gonna party in what I am wearing today...
...LAZY PUMPKIN
[feat. bedhead]
.
(oh...and no one suggest I dress up in any outfitz made out of butchered meatz. For serial, I'm not

that
obnoxious.)