Right behind being poked by ugo pervy strangerz, exez stalking your shit & drowning in a tidal wave of Farmville updatez, the most terrifying thing that all of us Facebook userz worry about on a daily basis is the unexpected and dreaded tagging of unflattering photos of ourselvez from back during our uglier younger yearz. It can happen @ any moment and takez no prisoners.

And you're stuck...if you keep yourself tagged, you have to live with your cyberself being forever marred by your adolescent awkwardness. If you de-tag yourself, you're a party pooping wuss that takez yourself way too supa serial. I was torn...I was all out of faith. Yeah that was how I felt when mi amiga de high school, Jordan, posted some old skool photoz of me online.
I might have had joy and had fun and had seasonz in da sun, but I for def def defferz looked like a burnt pile of trash most of the time during high school. And after I picked mis nalgaz off of the floor and wiped the resentful tearz from my eyez, I started looking through
my
personal photo collection from the olden yearz
[read as: 6 años ago]
, and found the following picture of myself [feat. my friend Val's mom in the background! YAY PAULA!] from my high school graduation: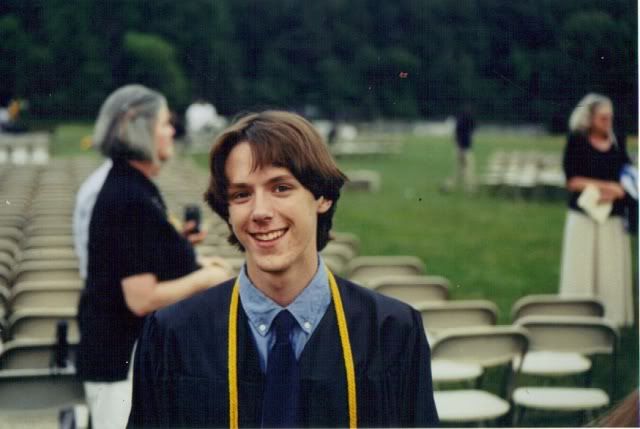 Aside from the immense pride I feel from having been able to wear the same shirt for both mah high school AND
college graduation
, I must admit that I don't think there is a single photo of my sourpuss in existence where I look happier than I do in dis photo right herre. I got all philosophical and held the pictura up to the mirror and spent half an hour analyzing the wayz in which my face had changed
(HINT: It got meaner, more corrupted + the bagz unda mis ojoz have doubled in size).
After I convinced myself to deglue my gaze from the mirror, I thought it would be cool to ask all you bloggy folkz to post photos of yourselves back when you were silly little school chillunz. So post a link to an ole-timey photo in the comment's section and let's all share and le sigh over how youthful and pure we once looked...