New music, movies, books...so many cosas nuevaz have been infiltrating mah life as of late!
I'm a pop culture junkie. You know dis. I know dis. The entire mundo knowz dis. And it's because of this that, as I have
mentioned earlier
, I like to keep up to date on all of mah favo stars' going-onz and be fully learned in all of their upcoming activities. So therefor, it should be no surprise that dis past Tuesday I was foaming @ the mouf for one reason & one reason only...
!!!!!!!!!!!!!!!!
One of
mah
EVERYONE'S favo popstarz,
Katy Perry
, decided to bless the world wiff another fantastico batch of pop music euphoria and release her new disc
Teenage Dream
. I have been waiting
(and stowing away a
Best Buy Reward Zone
coupon!)
for months for this glorious day of release and when it finally came, I pretty much was an exciterbiking nervous wreck!
Everyone in the world knowz how great "
California Gurls
" is and with her new single "
Teenage Dream
" already the #3 song in America after just four weeks, this is truly the summer of K. Perry. I think we all owe her a collective round o' applause to thank her for making our livez so much better!
But anyway, after work on Tuesday, I screamed like a blood-thirsty lunatic all the day to the Best Buy in Manhattan to purchase the album. When I got there, I was happy to see that the store had rightly so anticipated big opening day numberz:
(and she's stocked in good company too!)
Good thing too! While I stood in front of the albums, holding a copy and savoring this much-anticpated climatic moment of mah life
(also in an attempt to lure any passerbys to check out the album)
, three different d00dz came up and took a copy! Yay! And even better, the disco compacto was only $7.99! FUCK YES. There was also a deluxe version that came with a pair of boxxxer shorts, but since I HATE boxers, I passed.
Since the one album was under the $10 amount of mah coupon, I also picked up a copy of
Florence + the Machine
's album,
Lungs
(it came
highly
recommended)
. That album was only like $10...so let's do the hateful math, shall we?:
Both albumz are amazing and Katy's actually smells like cotton candy
[read as: like sickeningly sweet

Smarties

]
! I already know that they are destined to become two of mah top favz of the year and that I will want Katy's "
Hummingbird Heartbeat
" to play @ mah wedding while Florence + the Machine's "
Dog Days Are Over
" will play @ mah funeral.
-----------------------
But it wasn't just Miz Katy's new album that I've been anxiously anticipating! I grew up with two sisterz y una madre who were absolutely OBSESSED wiff all things
Stephen King
. I don't think there is a word that man has written that at least one of my family memberz haven't read. And while my illiterate azz has never really delved into King's literary abyss, I have been exxxposed to all the peliculaz based off of his werdingz!
It
gang-raped my life with fear,
The Shining
forever damaged my psyche,
The Stand
made me perpetually anticipate the apocalypse while
Cujo
made me weary of dawgz and
Firestarter
scarred me with an unwavering distrust of
Drew Barrywhore
.
But one of his short storiez/bookz,
The Mist
was given the big screen adaptation and though the trailerz were clever and the leading guy was a sexxxerskate pepaw, I never saw it in theatres! I'm such a dumbo!
So I decided to get in on
Netflix
, but since it took me prox 561 months to finish every episode of
Daria
, I didn't receive
The Mist
until last week. Just to toy con mi emotions, the last person to have the disc decided to
Etch-a-Sketch
some cartoons into the DVD, forcing me to return it and await another. But FINALLY, last week, a functioning disc was grandslammed into my mailbox.
And WHAT. THE FUCK??? For serial, WTF?!? Anyone who has witnessed the film knowz exactly why my heart and brain both simultaneously seized and crumbled into a depressing pile of dustz. It's about a mist
(durhz)
that covers a town and a bunch of peepz are trapped in a grocery store while some crazzzy shit happens outside. The movie starts out a horror thriller and turnz into a modern day adaptation of
Lord of the Flies
...blah blah blah...but what happenz just 10 minutes after diz photo...
...basically suckerpunched my stomach so hard that I was gapping-jawed staring at the TV. The last shred of hope for humanity that laid cowering in my cerebrum fucking packed his bagz and peaced the shit out of my skull.
Depresso espresso mania. Watch @ your own effing risk.

-----------------------
But I don't spend
all
of my time rotting my brain with pop music's sugary sweetness or pumping my mind wiff terrifying depictions of apocalyptic destruction. Sometimes I read! For the past two yearz, every time I perused
Barnes
and/or
Noble
, I'd see the following book sitting out on the "notable releaserz" table...
The cover captured my heart, as did the blatantly confessional title! I LURRRVE simplicity, and if I ever become talented and write a book, I'm totez stealing dis cover and using the same font and same fun citrus color.
Anyway, I've seen this book a bajillion timez in the past but since I am the stingiest person alive and am constantly in fear of losing all mah $$ and being homeless, I never bought it. But last week I remembered that
Chris D.
was generous enough to launch a B&N gift card in my direction for mah birfday earlier this year! So needless to say, I purchased the book and finally held it's poetic prose and melancholy humor in my mittz @ long last!
I totez think that
Miranda July
(best name ever?)
& her short stories could very well weasel their way into a creative writing syllabus as an example of modern day short story construction. Sad, but funny. Moving, but not exhausting. Her stories frolic down a thin line of emotion that never becomes lackluster nor overbearing. They're
just
right! Plus, look how devastatingly artistic
(read as:
Brooklyn
hipsterish)
she looks in her author pic: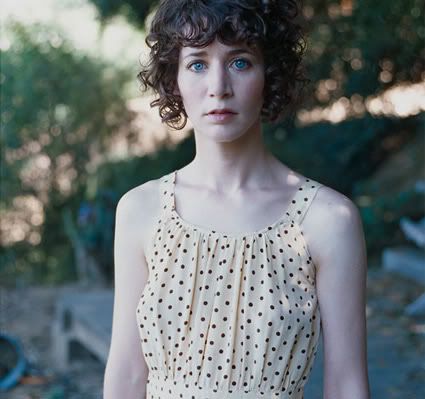 -----------------------
What about YOU folkz? Has there ever been an album, movie, book, video game, sporting event, lecture, rectal exam, etc. that you waited & waited & WAITED for? How effing awesomecopterz was it when you finally got it?!