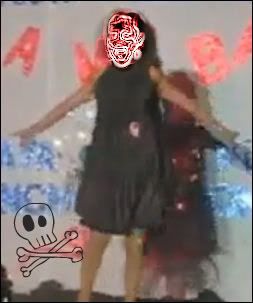 El Diablo
Who doesn't like to be spookafied?! A playful scare can really be the cure to all of life's troubles. But throw in some big belty diva impersonations, and you might have just found the universal cure for da cancerz!


I know

Enrico

& I constantly confuse everrrrybody when we proclaim "

I can't wait to be dragged to hell!

" but think about it after watching dis herre video. If all of Satan's demonz were as fabo and funky fresh as dis sexxxy

[read as: rotting]

mamacita

(or cholo?)

, then I think we'd all throw our st00pid bodies into Lucifer's scalding embrace in prox two secondz flat!
There is some serial live action
Nightmare Before Christmas
shiz goin' on! I hope you emptied your pee pouch before watching, or else you may have ended up in a puddle of lemerladez!
Such elegance & poise can only truly be acquired through
yearz & yearz
centuriez & centuriez of practice, and I believe we owe a round of applause to this inferno-grown diva extraordinaire for opening our eyez to what true beauty is! Watching her perform actually
does
make me feel like a million dollar bill!
Don't act a foo' and pretend that you're not completely and utterly jellerz of dis ho's grunge weave and death eyez! And that belch growl...TO. DIE. FOR. I don't think
Whitney
could have done better, though she
too
can be quite the
terrifying monsta
.
Now everyone, let's close dis herre entry and raise our bloodied axxxez and salute the
new source of all your night terrorz
queen of your dreamz! She most definitely will drag me to hell, and I can't fudging wait!