I love pop music. It brings more joy to my life than nearly anything else, and while there are many cold-hearted snakes out in da mundo who don't listen to
(or don't
admit
to listening to)
pop music, I wave my
gay
pop pride flag high!

So it should come as no surprise that last night I had the privilege of seeing two of today's brightest and most chartacular starz...

...

Ke$ha

&

Rihanna

!!
O
ne of my
two high school friends that I still talk to
high school friendz
Laura
was my date for the event and since she currently livez in Philadelphia for school, I chillaxed wiff her until the show across the river in Camden, NJ.
Yes, you heard me right...FATHEREFFING CAMDEN! As any person who values their life should know, Camden is known to be the most
dangerous city in America
. Statistix say that every five seconds in Camden, someone is murdered, raped, mugged and auto-jacked all @ the same time...or sumfing like dat. But as we also all know, nuffin' getz between moi and my pop starletts, so I threw caution
[read as: common sense]
to the wind and pranced on down to certain doom.
But before I get to da concert, lemme backtrack to the truly thrilling recap of what Laura and I did prior to becoming Ke$hafied. Having just moved into a new apartment, Laura was exxxciterbiked to show me her latest stomping ground. And while her living space is fantastico, I was more captivated by what lay
across
the street...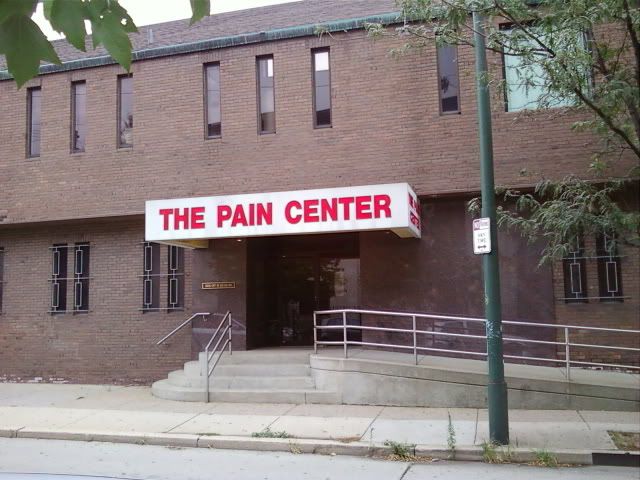 Neither of us were sure as to what the hell goes on in
THE PAIN CENTER
, but I think it's reasonable to assume that it's a torture chamber for a-holez like
Ann Coulter
, where peepz are forced to give a tonguebath to
dis d00d
while the
Black Eyed Peas
' "
I Gotta Feeling
" playz on infinite repeat.
After we cowered in fear over this ponderous terror, we decided that it would be smart to chow down on some comida before the show. We'd need all the energy we could get! We decided to make
several strong alcoholic beveragez
quesadillaz para cena! MMMMM.
After we shared one 'dilla
(hey, we gotta stay glamorously emaciated!)
, we were off! We rode the
PATCO
train from Philly into
Hades
Camden. When we got off, we walked past this seemingly abandoned murder factory, were kidnapped by thugz, punched in the nose and then escaped and ran to the concert.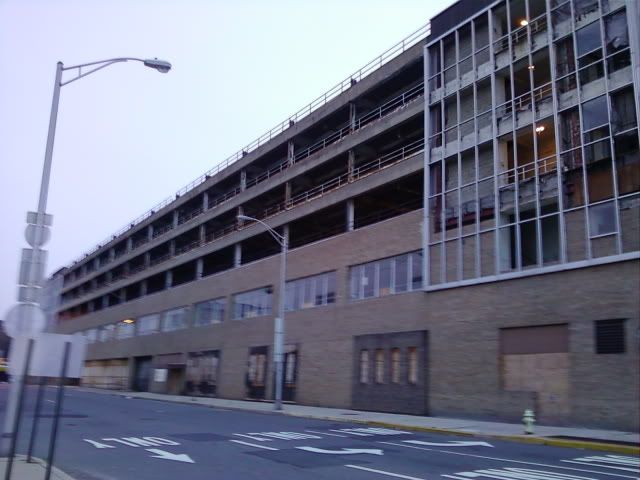 When we finally got to the concert, we took note of the crowd and were able to effectively label the demographic majority for a pop concert fiesta: Desperate slutty white grrrlz
[feat. miserable boyfriendz]
.
We entered the open-air arena right when the trashy ho goddess of mah life
Ke$ha
hit the stage, and while sprinting to our seats, I came across two concert-goers who were pretty, smart, intelligent and perfect
[aka they like the same music I do]
: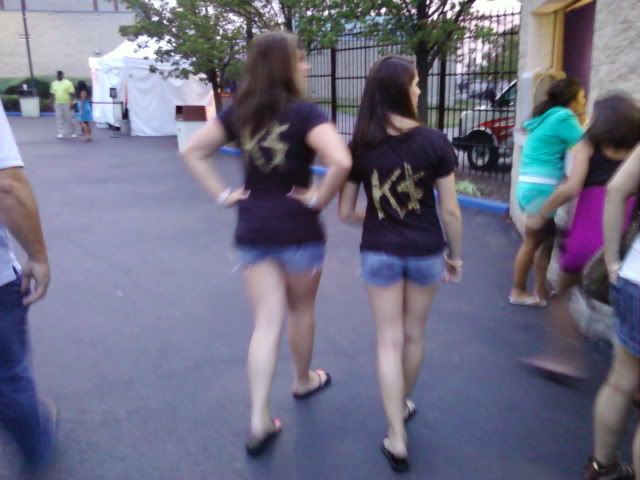 Then we trampled them to death cuz they were in our way. When we got to our seatz, Ke$ha had just started "
Party At a Rich Dude's House
." Of course I lost mah mind and sang every word to every song and glared at all the ugly & boring peepz who
weren't
dancing.
Since Ke$ha
must
have read my
Twitter
and known I was @ the show, she sang some of mah favo songz!: "
Stephen
," "
D.I.N.O.$.A.U.R.
" & "
Your Love Is My Drug
"! She was fantastic and YES, she actually did sing. There was glitter
(in the air)
, costumes, gooftastic dancing and severed mannequin heads. Basically, I was in heaven.
Check out two performance videoz I hijacked off of
YouTube
:
After we imploded with delight and reassembled our joyously jumbled brainz back togethz, Laura and I decided that our bladders needed some leaking. We went to the bathroomz and I got in and out in two minutes flat:
However, the ladies room was a totez different story...I waited for Laura to emerge from dis mess for prox 12 hourz: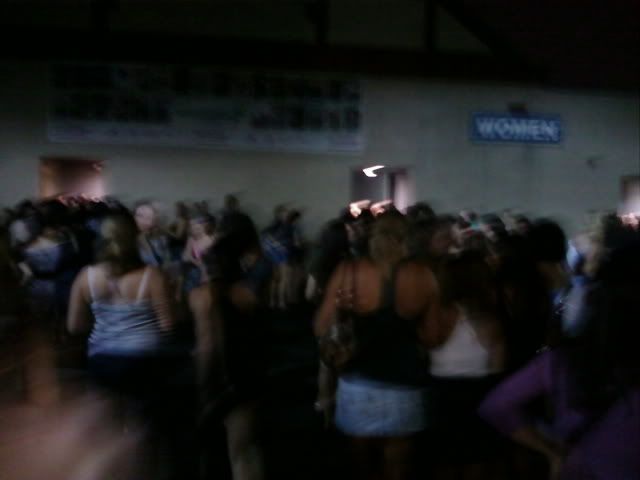 Finally she got out and we decided that during the redic long wait for
Rihanna
to get her azz out on stage, we'd take a gander at all the merchandise. Since the poorly made T-Shirts were overpriced
[aka not free]
, we took a picture of them instead!:
Then we thought we might need to get drunk to get through some of Rihanna's crappier songz, but when we got to the bar and realized we weren't millionairez, we decided to stay sober and tough it out.
So we went back to our seats and proceeded to whine, bitch and complain for a whole hour until Rihanna decided to come out. Now, Rihanna kind of doesn't exist to me. Sure, she's had some songz that I liked, and some that I didn't, but my opinion of her is very average and unwavering. But of course I wanted to see her sing her two biggest hits, "
Rude Boy
" & "
Umbrella
." The former was the third song she sang, but of course the latter was the encore, so I had to sit through all sortz of boring non-singlez and mediocre versionz of her less-than-stellar songz.
She apparently hatez peace and happiness, cuz her entire set was comprised of phallic artillery and animated cartoon grenadez. She also was decked out in some hideouz C-rate
Lady GaGogglez
buffoon costumez that were complicated and ugly.
But finally, she sang "
Umbrella
" and me and every person there made sure our "
ella, ella, ella, ey, ey, ey
"s could be heard from milez around. Then some peepz actually busted out their umbrellas and started wielding them like weapons and swiping them through the air. One such
artard
enthusiastic individual was a soccer mom seated next to me. Here I am fearing for my life:
Even though Rihanna isn't necessarily my cup o' tea, it was still a good concert and I am so ooooo jazzercised that I got to see Ke$ha! I'm proud to say that I am now and forever one of
Lady Gaga's "little monsters"
Ke$ha's "animals"! ROOOOOOAAAAR!