The subway is not a fun place to be. I mean, sure there are a whole bunch of
colorful characterz
that
pollute our eyez
we city folkz encounter regularly, but this does not negate the fact that being on the subway suckz balls and that without fail, you will alwayz be stuck near the smelliest, fattest, rudest and most clueless people in the entire world every time you enter one of the trainz.
And dis herrre blog is an animated story
(cuz werdz are for w33nises)
, depicting a not-so-fantastico adventure I had earlier this week...
So I got on the
D Train
leaving Southern
Brooklyn
and headed to work. The subway was quite crowded
(durhz...rush hora!)
and every seat in my train car had an ass in it...except for one...
Now, I could have easily slid into that seat, but
a)
I like standing and bending my knees
(which is a tightening exercise for thighz

[aka my blubberiest body part]

)
;
b)
I'm not a lazzzy walrus; &
c)
there was a puddle of some sort of indistinguishable nectar in front of the seat, and there's no way I'd let
David's shoez that I swiped from his closet
my really expensive shoez get all dirtified!
Then the car stopped and a flock of passengerz entered
[feat. one bell-shaped doughboy]
and they all scattered around the car and grabbed onto the safety bars. The doughboy had another plan in mind...and that plan involved more or less knocking me over so he could get to the sacred & last remaining subway seat...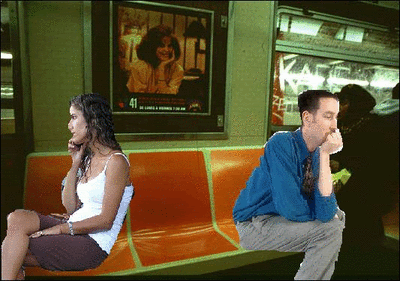 Forgiving his terrible complexxxion and obnoxious attemptz @ being sexxxy via clothing that was WAAAY too tight for his paunchy abdomen, he was a douchenozzle also for lumbering his massive body into me to get to the seat...cuz you know, standing is so strenuous.
And then, a woman who was prox double the age of the whoever the oldest person alive is, ghosted her way to the same seat that the chunkster prick monsta was eying...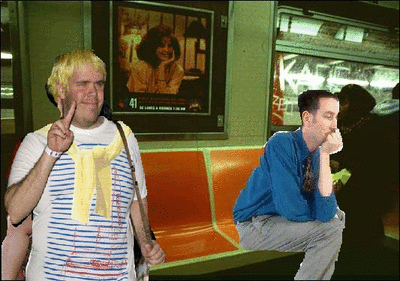 The old woman was shaking against her walker and had the saddest eyes in the entire world. My heart basically aborted itself outta mah chest, cuz I couldn't handle the immense sadness that her shriveling little body injected me with. But the plumpster wasn't phased by her nearly RIP status. He instead lit a fire in his eyez and turned into a demon
(
slight
exaggeration)
...
He gnashed his chopz, focused his eyez and erupted a growl that shook the windowz and mad wittle babiez cry for days! He opened his gob wider than even
Chloë Sevigny
can, and released a volcanic blast of embers and splintery debris that engulfed the whole woman...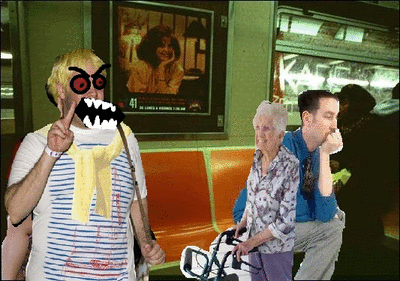 After he farted away her charred, dusty remainz, he inched towardz the throne. It lay gleaming and waiting for his
fat azz
delicate posterior to rest its supple
[read as: sweaty]
nalgaz all up in its grill. But Karma kicked him in the taint, for as soon as he moved in front of the seat, he slipped his st00pid self on the slippery puddle underneath him and came crashing to the ground.
He then proceeded to pick his goofy bunz off the filthy floor and exit @ the next stop. Though, I doubt it was the stop he intended to peace out on, considering he was so hellbent on getting that seat, I'd assume he was preparing for a long trip.
So y'all better tink long y hard nexxxt time you take public transportation.
Always
give the seatz to the crippled and old peepz...they need it more than you!