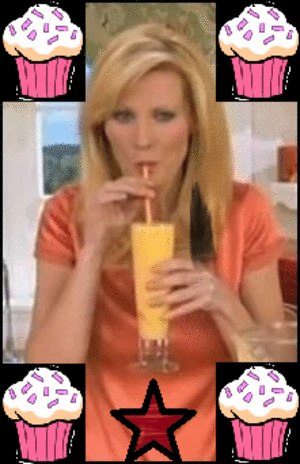 Sandra Lee


I always admire those that can cook/bake. I mean, for serial, is there anything more attractive that
a man
who will cook all your mealz for you while you plant your nalgaz in front of his computer and blog about pointless crap
who can work wonderz in the cocina?! NO! Well...yes, "
Bulletproof
" by
La Roux
is better, but culinary boyfriendz are a close second!
I actually have moderate culinary talentz, mahself. I survived throughout the majority of college making my own comida, and I didn't end up getting fat/dying via clogged arteries/choking down nasty burned food itemz. Although, I am far from a food master exxxpert, so I must admit that after watching dis week's
Monday Muse
elegantly saunter
[read as: drunkenly stutter]
about her fakeazz studio kitchen, I picked up a tip or two myself! Just watch and get your pen and notepad ready!
I WANT TO BE SEMI-HOMEMADE!
Sandra Lee
[feat. golden locks and matching outfit/kitchen color comboz]

is the modern day

Julia Child

. Though, I'm thinking that

Heidi Montag

might be a better choice to portray her in a movie than that novice

Meryl Streep

! But I digress...let's not deter away from the point of dis entry...DERRICIOUZ GOOD YUMMY SUPA-SUPA SIMPLE LUSCIOUS FOODINGZ!
I don't know what half the shit is she's scooping and pooping and pouring and plopping all over the place, but it sure lookz fanciful! I'm so low-class, I don't think I even deserve to eat Sandra's splatterz! I have to get myself into the kitchen more often so I too can master the recipe of the Luxurious Local Aquarium Espresso!
Remember, the secret ingredient to

anything

truly scrumptious is a splash

(or 6)

of vodka and a nice hefty portion of fisting!