As everyone that readz dis blog probably is aware of, last weekend was the
NYC Gay Pride Parade
. I have envisioned this shindig to be a terrifying display of all the tingz that irritate me about gay stereotypez, but it was actually quite awesomeskatez and surprisingly welcoming!
But as unifying and
sexxxual entertaining as it was, there was sumfing else that made the parade

even better

. As we all know, the best part of paradez is the possibility of scoring a lootbag full of pointless wonderful mementoz from floatz that think you actually care about their organization/product and not just the free lollipopz or whatever they are chucking @ the crowd.

Well, the NYC Gay Pride Parade basically crushed the living hell outta every other parade I'd ever been to! So since I shared wiff you all

[read as: bored the living shiitake mushroomz outta you]

my photographz from the

Mermaid Extravaganza Whore March

, I thought I would instead just pump your veinz full of envy wiff a quick rundown of all the goodiez I scored @ the NYC Gay Pride Parade!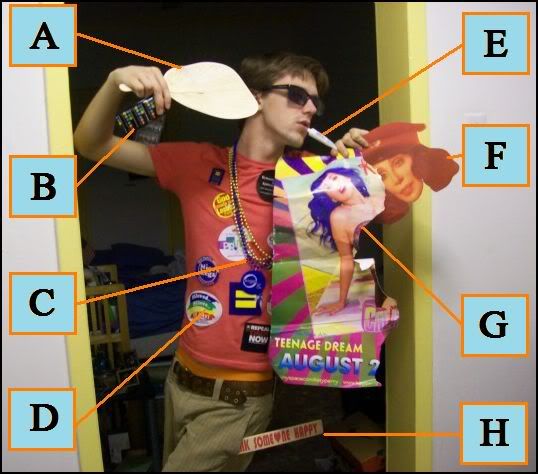 A)
Fan
- It was prox
98 degreez & rising
, so all of us parade-bystanderz were jonesing for a way to cut the unrelenting heat
[feat. consequentially unsightly sweat waterfall]
that was suffocating us. And since parade sponsor
Fuze
decided to ignore our section of audience when they handed out free samples of their overpriced faux-fruit juicez, me and mis amigoz were left still sweltering in the sun's unflinching douchegaze. Lucky for us though, some peepz strolled by handing out the paper fans I am holding in my hand in da above picture. It was the only thing standing between me and 13 back2back heatstrokez.
B)
Condoms
- I know I might be in the minority of peepz that
(oh, no)

do not hook u

(uh-uh)

p
, so it was reassuring to see that EVERY FLOAT was handing out goodie bagz chockfull of condamnz! My total is upwards of 60 rubberz, which is probably about double the number of times I've ever needed to use one in mah entire life! It's my goal to use all of them before they exxxpire
[aka hand them out to whorez on the street along with a pamphlet on finding personal salvation through

Jeebuz Christ

]
.
C)
Beads -
You know how during
Mardi Gras
grrrlz flash their milk dudz @ fat old men to try and get cheap dollar store beadz? Well, the same ting happenz @ Pride Parade! Only instead of having to peekaboo your nipz, you just need to eye-fuck the cholita or glitterpuss holding the bag o' beadz and pray that you're cute enough to deserve ugly plastic jewelry. I must have been doing sumfing right
(or wrong?)
, cuz I ended up getting three necklacez of that gaudy crap! Good for me! SOPHISTICATED STYLE FOREVER!
D)
Stickers
- I feel like candy is the go-to
handout
throwout @ all community-based events. And while the Pride Parade
did
feat. a supply of candy-toting men in thongz, the majority of the prizez given came in the form of stickers. I made it my goal to acquire as many stickers as I possibly could and plaster my bod wiff them. By the end of da parade, I had prox 13 stickers smacked onto my torso, including several for
boring
politicianz and one celebrating my god-given lesbianism.
E)
Lip-chap
- Sure, it ain't my
(incarcerated?)
grrrlfriend
Saaphyri
's infamous
lip moisturizer
, but it still was FREE! I told
Dahvid
that I was afraid to use it, cuz I was 99% sure that I would get da herpes if I slathered that onto to my puckerz
(based on absolutely nothing)
, but I applied it and didn't get a single spot. Just a cold sore! Yay!
F)

Cher
's head
- I don't need to tell you about the upcoming film
Burlesque
(I'm sure November 24th is circled in red on all of your calendars!)
. And I for def def defferz didn't need to tell the participants in the parade about the
Christina Aguilera-
debuting film! Everywhere you looked, peepz were holding paper fans with either Xtina or some
old person
's face on sticks. I tried to coerce some nearly-n00dz to give me their bionic Xtina faces to no avail. Then I saw a decapitated
Cher
puss in the middle of the street and convinced a parading pepaw to give it to me! And her face doesn't look half bad...tanxb2gawd for
Photoshop
retouchingz!
G)
Katy Perry
! -
Speaking of celebrity
trash
memorabilia that I found, my friendz y yo were walkin' through a dirrty alleyway when I nearly tripped over this gorge
(albeit ripped to piecez)
poster of
Katy Perry
from the cover of her latest #1 single
(4 weekz & counting!)
"
California Gurls
"! I don't care if the poster looks like
Rosie O'Donnell
tried to eat the Candyland magic off of K. Perry's sugarpillowz, I still hung that dirty piece of torn paper on my wall! My love runneth deep!
H)
Spanking Stick
- Now, it wouldn't be a Gay Pride Parade
(cuz I'm a self-appointed exxxpert)
if there weren't some classy sexxxytime toyz handed out to the crowd. And what better way to tell someone that you
♥
them than to smack them repeatedly with a splinter-ridden poorly sanded piece of wood?! I only know someone lovez me when they give me a black eye, break my arm and then beat me repeatedly with an over-sized tongue depressor!
------------------------------

So are YOU a parade addict like I am? What's the greatest loot you ever scored for FREE from such celebrations?! Do I look like an a$$hole in that photo?! Let me know!

P to da S:
We went to a Chinese restaurant right after the parade, and the fortune I got in my stale dessert cookie was, no shit, THIS. AZN people READ. MY. MIND!