In an attempt to
continue mah streak of decreasing my comment numero
get me and mah beautifully eclectic and intelligent bloggy readerz chatterboxing wiff one another, I thought I'd play a little musical ABC game! I found myself looking at my
iTunes
Windows Media Player
and organizing my entire music catalog alphabetically by song. It got me tinking, that out of every song I've ever heard, what's mah favo track that beginz wiff each letter of the alphabet? FUN IDEA RIGHT?
(...right?!)
So here's how it goes, I will do one letter an entry and reflect on what my personal favo songs are. Then y'all can post ur preferences and we can all discuss how awesome our respective tastes in musica are!

(Here'z to wishful tinking!)
I even got mah childhood clan of educational tomfoolery,

The Letter People

, to join in on the fun and aid you all if you forget how da alphabet works! Now let's get started!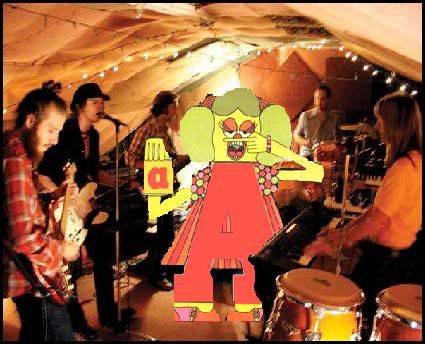 "
A
ll Things Ordinary
" by
The Anniversary
"

Between the two of us, we're strong enough. I feel that in your touch.

"
Yeah...I couldn't have started off wiff a more isolating tune, could I? I'm positive none of you cholitoz y gringaz out there have ever even heard of
The Anniversary
, and I don't blame you! I wouldn't have known about them if I didn't become absolutely obsessed with the now classic
EmoGame
[feat. neglecting my mountainz of college homewerkz]
.
You basically play as a bunch of famo emo artists and go about saving the world from evil baddiez
[IE:
Courtney Love
, frat guyz and
Steven Tyler
]
. The game is pretty rad and it definitely keeps the genre in check, cuz serial, every st00pid music n00b in the world namedropz the word "emo" wiffout
any
fuzzing clue as to where it actually came from or what it actually means.
But anyway, even though you fight The Anniversary in one of the levelz, their music is played in the background throughout certain stages, and that's where I first heard of them. Their song "
All Things Ordinary
" is a synth-soaring, harmonic rockathon anthem! I LOOOOOOVE the grrrl in the group especially! Her voice so cute!



runners-up:


"
Alarm Call
" by

Björk


"

All At Sea

" by Jamie Cullum
"

Anthems for a Seventeen Year-Old Girl

" by
Broke Social Scene

"Autobiography"

by

Ashlee Simpson