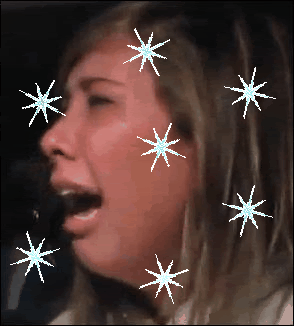 Elyse


I HATE getting into trouble! When I was in high school, I never once received a detention and rarely ever had to be disciplined by mah teachers. I never gave mis padrez
(too much)
stress and whenever I got into tiftz con mis amigos, I
alwayz
had to address the issuez flat-out. If I didn't, I would get this nagging pain in my stomach that was a steaming mixture of anxiety, guilt and sadness! So that's why I completely understand the plight on dis week'z
Monday Muse
!
Long story short, dis shorty below is trying to get into some sorority and to make everyone happy or sumfing, she decides to play weather announcer and make it snow. She stealz a fire extinguisher, jackz it off until it creamz all over the place, which then setz off the alarms and everyone wakes up and hatez her.
Then she runs outside into a car with her friend, and this is where the video pickz up...
Aside from her strangled bird voice and melting wax face, I tink that
Elyse
is a rational and productive member of society! I mean...what did she
really
do wrong?! Wasted a valuable piece of protective equipment? Damaged the building she lived in? Pissed off a league of vicious sorority cholitaz? Shit out a mess that even that
Brady Bunch
slave
Alice
wouldn't be able to clean up?
Sure, but who givez a fudge?! She was merely trying to bring some
Christmas Magic
to everyone's drunkenly vapid whorelivez!
If anyone is to blame, it should be her father. He did it before and she just wanted to follow in his brain-dead footstepz!! Like father, like
dumbo idiot bitch
daughter!
But let's not blame anyone. Let's instead learn from this informative life lesson. People do bad things
every day
...and it's alright as long as you don't meeeeeeeeeeeean to
[feat. frozen gaping mouth facial expression]
! Keep crying, dearest Elyse, it brings the pretty out in you!