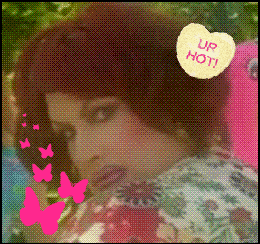 Jackie Beat


Since gay d00dz are the main demographic of peepz that garbage dive in this trash dump of a website, I am sure that dis week's
Monday Muse
is not any sort of surprise or new face.
Jackie Beat
is a
drag queen
goddess of the cosmos that is known for
looking
fabbyfabo
and for doing awesome rerecordingz of delectably
derrrriciouz
pop
songz
. But she's not the muse of
mah entire vida
para dis week for just
those
reasonz. It's for dis video below...
[note: I wouldn't have even come across dis video if it wasn't for the guyz @

Cocky and Rude

for posting the original on their site and for

Mr. Pasteeeeeeeeelnick

for enlightening me to the wonder of Ms. Beat.]
I
HATE
when peepz try to correct me. Newz flash to the world...even if I'm wrong, just play along and humor me. If you dare to call me out on sumfing I say that soundz fishy or just plain false, I will sass yo azz fasta than
Mandisa
would condemn homosexuality
would eat one hundred glazed pastries
. And now wiff Jackie Beat's string of surefire comebacks, I know I will never lose an argument again!
"
Josh, don't you know what they say about global warming?
"
"
WHAT? THAT IT'S MADE FROM CORN?!?!

"



"
But Josh, don't you know what they say about snorting asbestos?
"
"
WHAT? THAT IT HAS NO ARTIFICIAL INGREDIENTS?!?!
"
"
Come on, Josh. Don't you know what they say about child dismemberment

?
"
"
WHAT? THAT IT'S SAFE IN MODERATION?!?!
"
And please mind the absolutely CRUCIAL exaggerated facial expressionz
[feat. head tilts and finger shush]
. And alwayz,
alwayz
,
be sure to wear your most glamorous, low-cut floral print mumu. That way your opponent has an E-Z escape hatch from the convo after you utterly humiliate them wiff ur brash intelligence.
These are life lessonz, people. Take note.