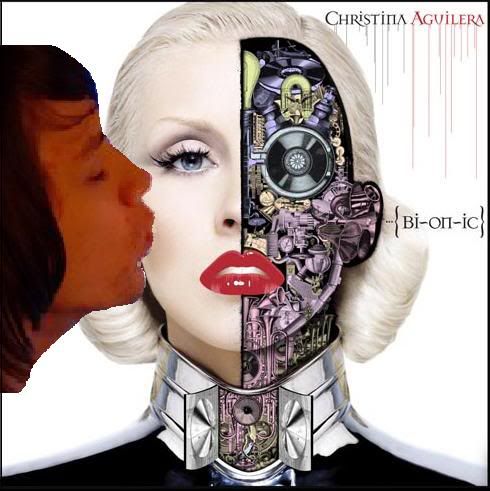 As you all
should
know, vocal gymnast and beauty queeeeeeeen extraordinaire,
Christina Aguilera
, just released her latest album yesterday! It's the
fourth full studio album
[not feat. pointless Christmas and Latin albumz]
from the
slutty
sultry young lady who was honored as being the youngest entry in
Rolling Stone
's "
Top 100 Greatest Singers of All Time
"! It's called
Bionic
and as mah car
[circa mah high school yearz back in 2004]
clearly exemplifies
, I ADORE Xtina! Therefore I for def def defferz had to pick it up the day it came out!
So after work yesterday, I hopped on the subway and rode a thousand miles up into Manhattan to go
meet

Mr. Pasteeeeeelnick

for a romantic dinner
to
Best Buy
and purchase the album. Of course I splurged an exxxtra four buckaroonz to get the DeLuXe version
[feat. five bonus track and hologram mayhem cover art]
!
Everyone is bugging a boo @ Xtina and saying that she's copying
Lady GaGogglez
, but I just roll mah ojoz @ those foolz & their lack of any pop culture knowledge whatsoeva. Christina's been
kicking
everyone's
azz
since
1998
and has more than validated her place in the poptastico world of current music.
Everyone wants to shovel
Katy Perry
,
Ke$ha
, Xtina and GaGogglez into some big lump of accusatory copycatting, but clearly each lady is aware of their place in the pop world and wouldn't be dumb enough to blatantly rip off someone else's style. I HATEZ how peepz tink Lady GaGogglez invented dancy pop music, when it's been around for decades. Each chica has their own niche in this bubblegum yum yum stratosphere, so don't talk shiz unless you know ur shiz, or else
dis
boy is gonna rub shiz in your face cuz
dis
boy knowz his shiz.
Anywayz...I find it thrilling to get an album from an artist I LURRRVE the day it comez out. What artistz do
you
choloz respect and support enough to buy their album the first day it's vagina-birfed into record stores?