I am kind of a pain in da azz. There are a lot of everyday tingz that seem to have little to no effect on any other persona around me, that irritate my existence to an unbelievably frustrating extent, that when I come across one of deez much-hated things, I feel like I literally could punch a sad sea turtle in the puss. Please, enjoy the sources of mah unvalidated rage...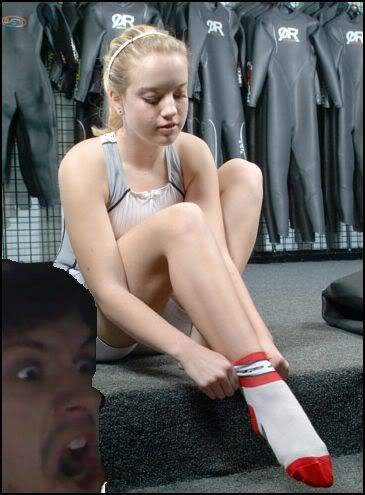 Socks


I've had a long-going battle wiff socks ever since I as a little tot. Mainly because they are uncomfortable and THEY SUCK. Not only do they always get lost in the wash, but just the act of slipping them onto my feetz gives me reason enough to hang mahself. So tight...so scratchy...so confining, it feels like my poor toes are in a sweaty cloth prison! A cocoon of inescapable hell!

When I was first learning how to get dressed, I

hated

how near the point of the sock there was the slightly bunched part where the fabric was sewed together. I inexplicably labeled these sock tumors, "Tooniez" and to this day, still hate feeling them rub against mah toes. Maybe my feet are just really dry, and that's why they feel scratchy whenever I put socks on, but I'm totez not spending $$$ on moitorizer, so for now, soxxxorz still suxxxorz!

Thingz Getting Between Me & Whoever I'm Walking With


So you're
out for a walk wiff your best friend/lover/mom/dad/pimp and you're in the middle of a fantastico conversation about the tragically nostalgic metaphors in "
White Houses
" when a pole/trashcan/group of ugly yapping high school grrrlz/bus comez in your vicinity. And then, to your displeasure, the engaging and exciting connection you and your walking partner had get pushed to the ground and raped by one of these aforementioned hinderances coming between you. CONVERSATION OVER.
I HATE having shiz come between me and whoever I'm with and I try and make it a point to always stay to the same side as them. Maybe it's cuz I was an English major
[feat. constantly try and find metaphorz

EVERYWHERE

in real life]
, but I find the symbolism of sumfing coming between you and your loved one to be very close to heart-breaking. Serial...
::sniffle::
...I'm
this
close to crying.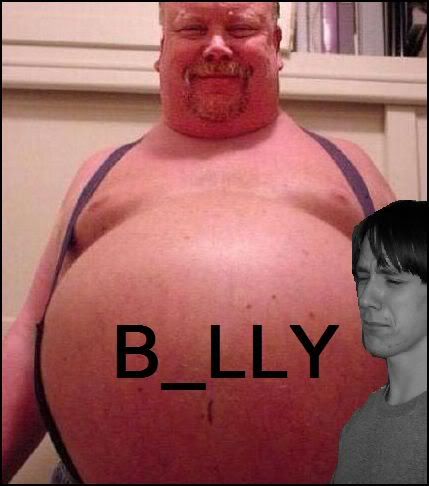 "B*LLY"
People tink I'm crazy
and for good reason
when they find out that not only do I detest the word for "stomach" that ryhmes wiff "Kelly," but that I absolutely refuse to say it. Mah hatred for dis werd probably stemmed back from when I was a child and I hated to take mi camiseta off. My life is frrrealz an insecurity factory, so I would NEVER be seen shirtless in public.
Because of mah anti-toplessness, I grew to fear the B-word like the muthafuzzing plague. So gross! When I hear it, it makes me think of parents motorboating
[feat. spit everywhere]
the living shit outta their baby's abdomen
and/or
swollen, terrifying shirtless
Sandy Clawz
rapistz
[see: above]
. SICK NASTY!
Escalators
Let's first all acknowledge how monstrously frightening the very top/bottom of the escalator is, where the stairs get sucked back into the floor and there are those scary teeth that I always launch mahself over to avoid getting my zapato laces trapped in. I know I can't be the only person out there that crapped their trouserz
last week
as a child whenever they reached the bottom of the escalator! I'm positive they kill people!
But aside from being murdered by them, what REALLY annoys me about these motorized machines is how it promotes people to be even LAZZZIER than they already are. Escalators aren't like elevators that shoot ur azz up flights and flights of steps...they take you short distances that you could easily walk yourself. And I get it...some peepz are old or disabled and it helps them get around...and that's fine!
But unless you're about to kick the bucket or are missing a limb or sumfing, than get your high fructose corn nalgaz off the automated people mover and start climbing a flight of steps. I'm not Mr. Body-Builder Ejercicio Machine, but I always take the stairs
(or walk on the escalators if there isn't an option)
, cuz the last thing I'd ever want in mah life is to have lardy butter chopz as thighs.
When Fitted Bedding Comes Undone
This is manoz-down the worst thing in dis herre entry. I would seriously ratha sleep on a stained, pee-drenched piece of cardboard than sleep in an uber-comfy bed that has a fitted sheet that has risen up over the mattress. This anxiety also branchez off of mah artarded childhood and how there were times I'd kick around in my sleep and get my feetiez tangled in fitted sheet that werked their way out from unda the mattress. I woke up thinking I lost control of mah legs!
To dis day
(and peepz who have shared a bed conmigo can vouch for dis)
, I loathe getting into a cama that isn't properly tucked in with it's beddings. And if I wake up in the middle of the night, and the fitted sheeterz have gotten effed up, I will have to get outta bed
punch

David

until he stands up
, and remake the whole damn thing in order to get back to sleep.
So am I quite possibly the most obnox person you've ever met? Don't say a word...your silence says enufz.