Huzzah! I feel like my first installment of

My Musical ABCs

was mildly successful

[feat. 18 comments!]

, so I am goin' to continue on dis week. Share your favo songz that begin wiff da letter B!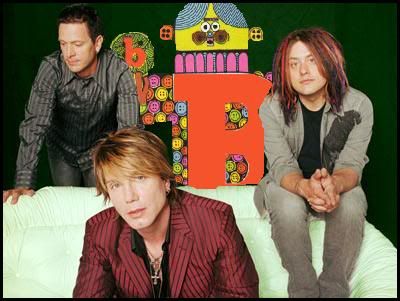 "

B

lack Balloon

" by the

Goo Goo Dolls
"

I saw the world spin beneath you

."
I'm sure we all remember that first band that we heard on the radio and thought, "ThEy iZ mAh FaVorIto!" Then you go out and buy all their recordz/tapez
(or if you were me, sit by the stereo and wait to record their songs on a blank cassette when they came on the weekly countdown show)
. You went to see them in concert and swore to yourself that you'd never be the same. You used to lie in bed and day dream about singing their songz to grrrlz you had crushez on in middle school, before realizing you like da p33n machine.
...Well, that group for me was the
Goo Goo Dolls
! Now, everyone is alwayz like, "I LoOoOvE the Goo Goo Dolls" when they actually mean "I LoOoOvE that song "
Iris
" by the Goo Goo Dolls from the
City Of Angels
soundtrack." But for serial, as great of a song "
Iris
" is...the majority of the rest of their catalog pales it in comparrision. And for proof I give you "
Black Balloon
."
My obsession wiff dis song transcended simply loving the hell out of it. Twas tanx to dis track that when I was a teenager
(I feel so old!)
that I started creating my
own
Billboard
charts based on what my top 50 songs were. And I updated dis shit
every
week and included each songs chart position, peak and weekz logged. And for no reason. And "
Black Balloon
" was in the #1 spot for the entirety of the chart
(which lasted about an año)
.
This song also marks the first time I ever fell in LURRRVE with a guitar-part
[see: the opening

bum-bum-bumbumbum-bum

part]
. The lyrix were
way
too complex for my dumbo head to figure out, but now that I'm older I appreciate how TRAGIC they really are. And the video is one of mah FAVOZ of all time
(I think dis shot is BRILLZ)
.
Manoz-down, this song goes into my music hall o' fame.