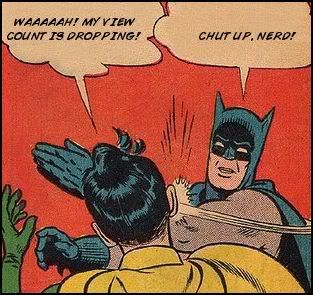 There's no real point to dis entry other than to be morose over the drying up of the bloggy landscape! Where there once were fruitful treez, there are now just piles of dried up kindling. Where derrrrriciouz oceanz of crisp agua once flowed, there are now only craters. Where grass sprouted from the ground like so much
Rogained
hair, there is now just a deserted, balding scalp. Oh woe is mah bloggy world!
Ok...cutting the melodramatic bullcrap. I know I've been MaD BuSy the past few months and I just wanted to say I'm sowwwwwy that I haven't made my gloriously golden
[read as: pungently obnoxious & self-deprecating]
presence felt more across this little corner of the blogosphere that
Josh Is Trashy
and the rest of the
Puntabulous
blogz call home.
My daily/weekly/monthly view counts have toilet-swirled to lowz that make me a saaaaad panda. But I know it's partially mah fault for slacking on posting/commenting (
and partly the fault of the impending Summer unleashing a world of fun things for us to do away from our computadoraz, thus crane-kicking my blog counter in the throat)
.
I love all you bloggy readerz, and in the words of
P!nk
, I implore you, "
Pleeeeeeease don't leave me
."
(da da da da da)