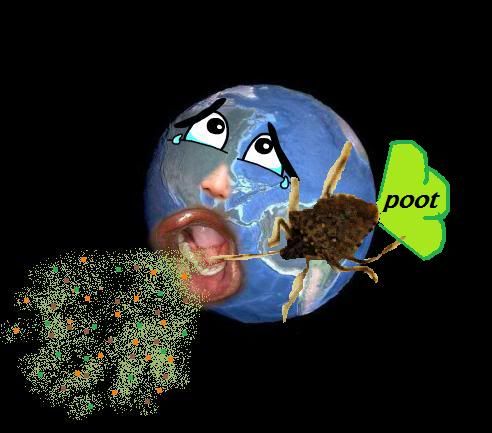 They are handz down one of my least favorite things in the entire mundo. I'm serial, you guyz. I'd rather
spoon out my eyebawlz wiff an ice cream scoop
watch an entire season of
Law & Order: Special Snore Brigade Unit
then have to share close proximity with these. They're pretty much the single most obnoxiously repulsive and abrasively disturbing thing to ever crawl up from the depthz of hell and invade our abused planet...
...I am talking of course about
STINK BUGS
. Their full name is Pentatomoidea which is science blabber for "smelly butthole" or sumfing along those linez. If you haven't had the ill-misfortune of stumbling upon these little pestz, then consider yourself
Britney Spears'
second single off of her sophomore album
!
Like their name implies, these demonz drag your nose holez down to hell
(not in the awesome way)
, but their smell isn't blatantly vom-worthy like rotting poopz or burnt cat fur. If it was, I'd just empty an entire bottle of
Glade Fresh Laundry
Room Spray
whenever one these little fart monsterz had a leak.
But no, the odor that escapes these fuckers is a more smothering kind of smell. It would best be described as a musky B.O. stench that has fermented in a gym locker for a year. It starts off light and you think for a hot minute that you might have forgotten to put on deodorant that morning. But the crap festival aroma grows in pungency exponentially, till you're swimming in a cloud of this demon spray and you reek of it for the rest of your life
[read as: the day or until you shower and change your ropa]
.
Just look @ how sad these insectoz make my harem of grrrlfriendz
(and yes, that

is

Jessie Spano
behind

P. Hilton,
screaming and totez not being

so excited

for this stink-shower)
:

These little bastardoz run rampant in mi casa
(durhz...I live in the forest)
and I make it my duty to kill their azzez as fast as possible. But it ain't e-z! I've tried squashing them but that for obvz leadz to unsavory results. I've tried shewing them out my window, but that leads to them getting pissed that I'm swatting in their direction, consequentially leading to toxic contamination. I've tried wishing them away, but then I remember that wishing is for wienisez. I've tried doing NUFFIN', but the artardo bugz still fly into my lamp, get freaked out by the heat/light, and then fart away wiffout any provocation from mahself!
So basically my life blowz whenever they are around. And they are around all the time. So my life blowz ALL. THE. TIME. Please feel bad for me and help me outta this spiraling tornado of stinktastico depression! Have you ever done battle with these nasty hoz?! If so, how did you end your misery?! Please don't tell me that suicido is the only answer!
::criez:: ::suffocatez on stench::