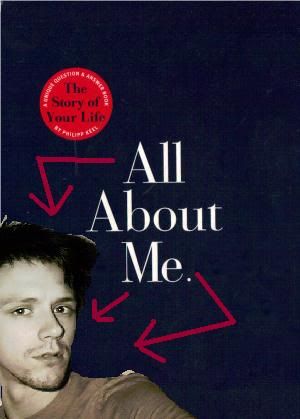 Unless you have amnesia
[read as: don't read

Mr. Pasteeeeeeeeelnick

's blog]
, you should be aware that it
twas mah birfday
last February. And all you vunderville bloggy cholitoz surprised the glitter outta me when David gifted me with a backpack chock full o' presents from you sweet, thoughtful rutabagas! Wellz,
Polt
's gift to me was
porn
a book about mah favo topic:
Poorly received and hence forgotten about pop songz from the late 90s/early 00s
MYSELF!
The book,
All About Me.
, is a collection of rando survey questionz that can help me chronicle all the many reasons I rule
[aka reasons I suck]
. It's like I'm a celebrity! This book is PERFECTO para me because, as you all know, I would punch 15 recently-orphaned paraplegic blind impoverished babies if it meant that I could become famous. I LOVE to
make up interviews / while I brush my teeth
!
So instead of keeping my answerz to myself, I thought I'd post selections of preguntas, answer dem here and then have you sweet little so'n'sos answer them urself. So let's get this carousel a-spinnin'!
"

Althought you may not have an 'absolute favorite,' answer the following questions spontaneously. The best answer will be the first thought that comes to mind.

"
A color you like to wear:
I used to wear dark oversized tees all the time because I guess I liked to really show off how sickly sun-deprived I was via color contrast. Now I am fond of strutting around in fitted tees of the
c
i
t
r

u
s
color variety!
Regardless of size or circumstance, an animal you would like to own as a
pet:
Wellz, since I already have three of my
favo animal
, I guess I will pick #2 on my list, which would have to be a cute little monkey that could sit in my pocket, that I could feed mini-bananas to and that would groom me for ticks in the Summer.
A flower you would like to grow in your garden:
Audrey II
so I could drag this dumb
GaGogglez
-lurrrving world to HELL while singing and yelling @ everyone.
Your lucky number:
I don't believe in lucky numbers. But I've always had an affinity towards odd numeros. I find 3, 7 & 9 to be quite handsome-looking!
A smell that makes you pause:
Clothes that have been recently washed using
Arm & Hammer

Liquid Laundry Detergent

("Clean Burst" Flavor!)

. It's the odor of what the boyfriends I used to make up for myself in my head would
smell like, if they weren't fake.
A taste that makes you melt:
Gouda. Gouda. Gouda. Gouda.
A hobby that occupies your time:
Posting Q+As that no one cares about on a blog that no one cares about.
A sport you enjoy watching:
American Idol
.
A sport you enjoy playing
:
Mario Kart
.
Your favorite meal:
Pork roll, egg y chedda on a salt bagel. But I only eat one a year, cuz I fear my arteries would literally euthanize mah existence if I exceeded such a limit. CLOGGED CITY USA!


A drink you often order:
When I'm an alcoholic? Rum
[feat. Coke...the only time I drink soda!]
. When I'm
sober
? Kombucha!
A delicious dessert:
Anything that's been given a forcefully violent injection of almond paste. MMMMM.
Ok...dat's it for now. What about you folkz?! Answer these questionz so I can learn your Earthly ways better!