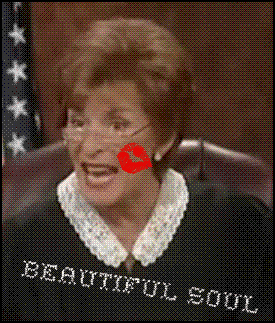 Judge Judy


Admit it, you LOVE seeing bad shiz happen to other people. To see some dumb teenage ho get barked at for any countless of bizarre reasons can seriously turn a bad day into a near-perfect one. Trust me!
Get a bad grade on an exam? Have a huge fight wiff ur significant otro? Get reamed out @ work cuz you kept falling asleep due to staying up all night boohooing over how no one will ever love you? Shut your mouf, grab a bag of Xtra
-Fat
-Butter popped corn and root your nalgaz into the nearest couch for a good session of over-exaggerated
Judge Judy
debitcheous debauchery. Don't believe me?
Then go bugger off
Then watch dis:
Isn't she just so..."
Shhh...
" But really, her elegance is just so..."
NO, YOU DID! SHHHHHH!
" Pardon me, Dame Judy, I just want to point out..."
SIT DOOOOOWN! IN A CHAAAAIR!
" Okay, but I'd rather..."
Whatever
.
" Why are you being so mean..."
Shh. Your case is dismissed. NOW YOU CAN LEEEEAVE!
"
(Bah, forget it.)