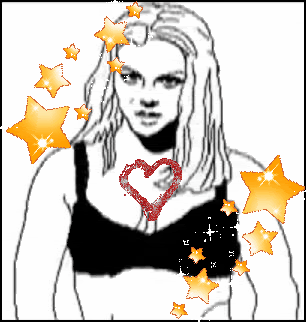 Britney Spears

This spicy little mamacita really needz no introduction. If you don't know who

Britney Spears

is, then you really should check the calendar, cuz chances are you live in a boring, lameazz time period

[aka anyting pre-1999]

. BritBrit is the epitome of modern day pop, and whether that's a good ting or a bad ting, there's no denying that grrrlfriend for def def defferz has some power over us all.

Oh, don't be a pretentious little snickerpuss...I know you've all fantasized about seducing your professorz while singing "...Baby One More Time." I know you've all dance around in front of the bathroom mirror in nuffin' but your home-grown sprouts to "Toxic." I know you've all cried yourself to sleepz for a month straight to "Everytime"

(or was that just me?)

. Admit it, B. Spears has some catchy jams and a failure to admit that will leave me to only assume you hate fun...and who could possible hate FUN?!
But aside from the glitz, glamor and glitter
(in the air)
, Britney has gone through a rough couple of yearz. And that's why this week's
Monday Muse
will take a look @ Britney during her trashiest of momentz.
An artist, a model and an equestrian-enthusiast, Britney is a down-to-Earth, well-rounded beauty qwueeeen, even when she's @ her shitnastiest! So she likes to take a few sniffz of daddy's magic powda. So she drinks a wittle of the hard schtuff once in awhile. So she enjoys a good slab of bacon
[feat. genitalia]
on occasion. GIVE HER AN EFFING BREAK!
LEAVE BRIIIIIITNEY ALONE
! It's so e-z for wieners to criticize celebrities
(trust me, I'm one of those wienies)
, but chut uh!
YOU
never recorded "
Stronger
" aka one of mah FAVO POP SONGZ EVER.
So I hope this entry has made you all a tinsy bit more sympathetic to the plight of the legendary Ms. Britney Spears. You'd go batshit, head-shaving, lesbian-kissing crazzzy too if
Rumer "I Don't Do Anything" Willis
was hunting your nalgaz down!
P to da S: Isn't

Gerald

cute?!