It's
Gay Pride Weekend
in

New Hope

(which is prox 15 minutoz from mi casa)

! Yay! So aside from me being able to not hate mahself for two days, it also means that Nueva Hope is brimming with wonderfully trashy and abrasively colorful personaz for me to observe!
I decided to be a good homosexxxual and embrace the danceytime rainbow magic of the season and check out the gay bars last night. But since I am shy and terrified of being molested by gross desperatoz that think just because I'm gay I'd want to play under-the-table hooker games wiff them, I enlisted the support and company of my mirror-image,

Enrico

! Along with his housemates

Ross

&

Christie

and my friend from the restaurant

Sheila

[feat. her amiga]

, we hit the scene!
The gay bars pretty much looked like dis: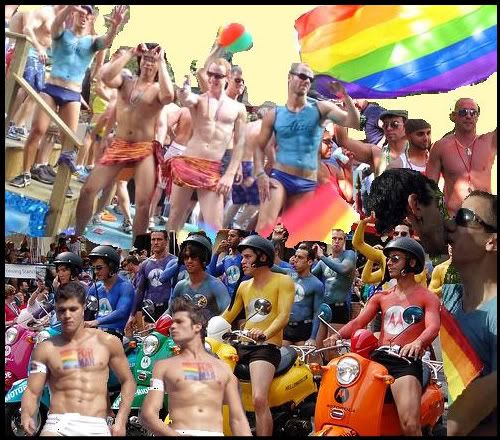 But as you all know, Enrico & I are from the
Kelly Clarkson
school of sexual relations
and don't put our goodies out on display for the world to see. I ain't a yard sale! MARRY ME FIRST. We prefer analyzing pop muzak, crying over poetry, squeezing cats, playing
Nintendoz
and
quoting
schtuff
that other people don't understand in everyday conversations rather than have sexxxytimez wiff rando guys and be half naked all the time. Here is an accurate photo of us when we hang out:
So you would think we'd be like sharkz outta water @ the bar...but no way José! Us and our crew partied hearty and even @ one point were up on a stage screaming along to "
My Life Would Suck Without You
" while dancing and
embarrassing ourselvez in front of the entire world
impressing the entire world with our dashing good looks and slick moves.
Twas a great time and it makes me quite self-satisfied to know that I can have fun and embrace dIffEreNt aZPecTs Of QuEeR LiFe while not jeopardizing my personality
[feat. morals]
. Oh! And I also ran into
Chris D.
as well! Huzzah for
PuntabuCameos
randomly taking place in mi vida!
Sorry for the unfocused blah blah blahness of dis entry. I'm in that weird post-drinking-not-hung-over-but-mildly-blurry phase
(Serial, I went to the grocery store this morning and found myself clutching a block of cheese and blankly staring @ in for two minutes)
, so I think I am gonna go for a run to get my mind back into gear.
Hope you all have had a fantastico weekend so far!