So it's that time of the year ago. No, not the first day of school and no, not
Xtina
mas. It's TAX TIME!
::

booooo

:: ::

hisssss

::
Yes, tomorrow is Tax Day where everyone's dreamz don't come to troofz, unless you're one of those lucky folkz that get refundz.

Now, I used to be one of those blessed individualz who were receive a nice chunk of cheez in the shape of a couple hundred dollaz, but that was back when I still was a unda-the-table-tip-mongering-server-slut. Now that I have to claim all mah moniez

[feat. rando tax blah blah blahz that aren't funny and I don't care enough to explain]
, I owe NJ state and the Fedz prox a million buckaloonz
[the Over-exaggeration is Mah Best Friend Remix]
. That makez me feel like this:
But I almost didn't file mah taxez dis season! As you all should know, monetary issuez I tend to ignore because they give me crippling anxiety and bad gas. Howevz, I had an adventure a few weekz ago that kicked my st00pid shinz into gear and got my rumpus on over to an accountant. Here's what went down...

down...

down...


Since I werk en Nueva Nueva, yet have obligations that keep me living in Dirrty Jerzeee

[read as: ain't gotz enough dollaz in my pocket to move to el ciudad]

, I have to take the bus two times a week, once going into the city on Mondayz and once leaving the city Friday nightz. It was while walking through my home-away-from-home

[aka

The Port Authority Bus Terminal

]

, that I was drop-kicked into my adventure.

While strutting to my bus one Friday evening

[feat. wearing mah Pepaw sunglasses inside and popping my jawline out like a perverted model]

, I came across a poster of some cholita with a goofyazz grin on her face staring blankly in my direction: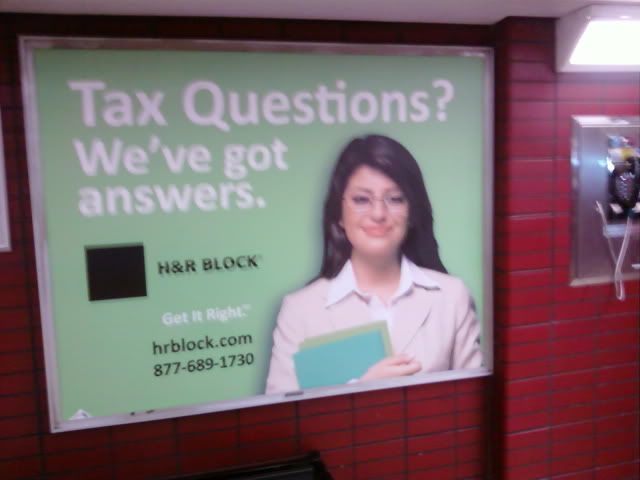 You've got answers? Good. Why does it look like you're completely coated in
Tyra
's
bedazzled vaseline
? What kind of nasty animal pr0n are you clutching to your bosom? And what's wiff your sleepy-"
I've got a dirty wittle secret
"-smile?! Are you getting your hoohah massaged by an anteater?
I spent a good 10
minutes
secondz pondering why
H y R Blox
would pick this pointless nut-bar lady to be their poster ho when there are
so many
other
peepz
I'd much rather watch do
me
mah taxez. Then "
Someday (I Will Understand)
" came on my MP3 playa and I started thinking about
Britney Spears
' chillunz instead.
But as I further made my way through the bus station, I started to feel like my azz was being followed...
I have little to no faith in mankind, so of course I assumed that this neighborly repetition was merely due to some lazy lardbutt's slothfulness and failure to notice that he put the same two posters nexxxt to one another. "
People are moronz
," I thought as I rolled mah ojoz and glided on past these identical twin tweedledumz. But then I looked up...
Um. Stop. What struck me even more than this bitch'z unwavering gaze was how no other effing persona walking around the Port Authority seemed to notice that this chica was EVERYWHERE! I then began to ponder whether or not it was
I
who was going mad. As I always do when I am scurrred, I started to run
(in an attempt to find a hidden crevice I could curl up and cry in)
. I nearly fell down the escalator and broke my face off
when I saw this...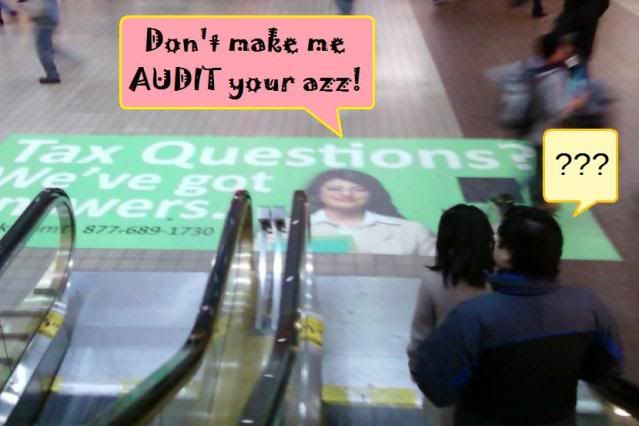 I scooterboarded mah nalgaz deep into the dark and mysterious trenchez
[read as: the first floor]
of the bus terminal to see if I could escape the naggytime bullshit of this governmental succubus. I ducked around a corner...
BE GONE YOU FINANCIALLY INFORMATIVE YET MONSTROUSLY REDUNDANT DEMON!!!
I started to run just as fast as I could, to the middle of nowhere, to the middle of my frustrated fears, I swear. Yet, I couldn't shake this ugly monkey woman off mah back!
Seriously. WHAT. THE. FUCK?! I was in a whirlwind of disbelief. Nuffin' made sense. Hot was cold. Yes was no. In was out. Up was down. Wrong was right. Black was white. Fighting and breaking up was kissing and making up! Then I died. Then I got resurrected. When I awoke, they had me surrounded...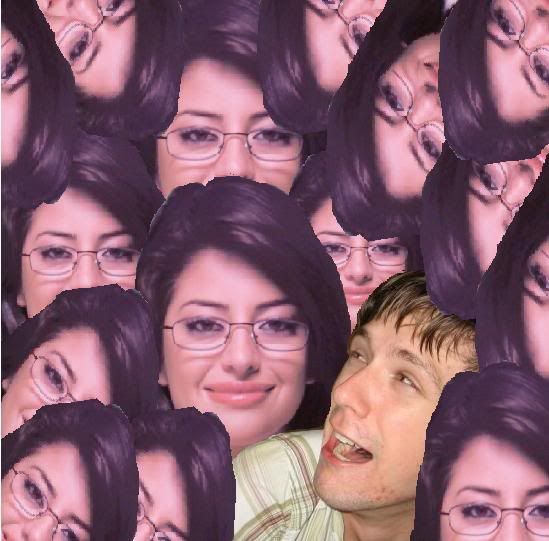 They started closing in. I screamed for them to back off. I promised I'd do mah taxxxez. I begged and farted and wailed and wimpered like a little gringa. They. Just. Kept. Moving. In...
And then I remembered the peppa spray mi madre gave me when I first went off to college, so I wouldn't have my virtues forcibly soiled by drunken pedophilez! So I ripped the spicy
Medusa
-strength nectar outta mah pocket and knocked out all those hoz stone-cold!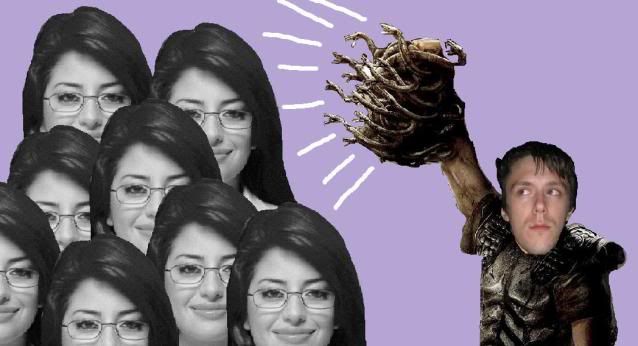 Well, you better effing believe that the nexxxt day I was in my family accountant's office, having him fix my life! I sent off what I owed last weekend and can finally breathe easier!
So let that be a lesson to you! If you haven't filed your taxxxez yet, you better do it tomorrow. If not, you might just be faced wiff a never-ending barrage of cheeky cholitaz wiff dollar store eyeglasses and waxy weave! BeWaRe!!11!!11!one!!1!