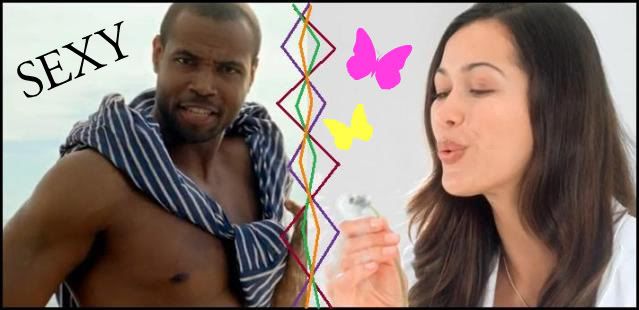 Commercial Peepz Selling Me Crap


Here's the problem wiff me folkz...
I HATE spending mah hard-earned
(whore)
moniez on anything! Even food! I'd rather starve than spend
$$$
on comida
(it keepz me thin aka the goal of mah vida!)
. But then I see commercialz on the televisor and my mind become aswept in a whirlpool of unnecessary cravingz and unvalidated desirez! It's an illness!
Then I become all stucked-in-da-mud between frivolously purchasing shit I really don't need and keep my precious few
Benjamin Franklin
's safely stowed in my sweaty palm. Oh what to do, what to do?! I know that commercials are crafted to seduce viewers in the same way
Rhonetta
effortless seduced our earz...but yet they answer so many questions and seem to solve so many of my problemaz that it seemz like I won't be able to survive wiffout dem. That's why this week's
Monday Muse
is gonna highlight two examplez of how marketing taught me so much about myself that I feel
(almost)
obligated to buy a year's worth of their overpriced productz.
The Old Spice Studathon


So
that's
why I can't ever seem to get a grrrlfriend! I've been going about this heterosexxxy thing ALL WRONG
[read as: not at all]
. I thought that the key to getting a lady to shine her naughty red spotlight on my twizzler stick was to treat her wiff respect and love her unconditionally!
WRONG! I iz soooo artarderedskatez! To get a chica jonesin' for la mantequilla de mis pantalonez I have to
a)
learn how to teleport her azz to places that are exotic
[feat. expensive]
;
b)
not think that it's too late for me and mah white horse to come around;
c)
be a black man;
d)
make diamondz, boring ballet tix, chocolate, cleaning products, ugly flower hats and whateva other st00pid schtuffz women adore appear out of nowhere
[feat. preferably via mystery clam]
; and
e)
degrade my own masculinity wiff hetero-normative gender stereotypez that claim certain smellz, colors, ideas or preferences are "for men" while otherz are "para mujeres."
Now all you glittery bloggy gayz that are reading...follow these rules and go out thurr and pregger-upper some salty hoz!
The Kotex EveryGrrrl




A
nd to think I have spent the entire 24 yearz of my life being utterly horrified by the existence on tamponz. Bloody and soaking and fermenting...UG...SICK! I hate how everyone quotes
(yet tinkz they're the first ever)
that line from
South Park
about not trusting sumfing that bleeds for five weeks and doesn't expire, but it's totez how I feel! Scary CITY! Then I hear that this rancid raspberry 'gina fart is actually from an EGG?! RUINED BREAKFAST FOR ME!
But then this commercial came along and this racially ambiguous
[read as: socially comforting]
beauty queen twirlz into mi vida to clear everything up for me. 'Ponz aren't to be feared! They're to be cherished. They aren't dirrrty and gross! If so, then how can this tall, slender temptress and her complete white wardrobe and porcelain monocolor abode stay blotch-free?! If periodz turned ladiez into monstrous demonic
Cloverfield
monstaz, then how can this sweet mild-mannered 18-10-24 year-old female remain so calm and alluring
[feat. dynamic cutting & editing jawline posing]
?!? If the monthly shedding of their non-babiez makez them all lazzzy and bloated, then how can mamacita here exercise, play cheerleader and spread dandelion weedz wiffout sweating an ocean?!
Answer me those questionz, señors...yeah, got nuffin', right? So the nexxxt time you wanna heave thinking about that lady problem all of us hombrez shiver @, just remember how pretty and pure that lady is and everything will be alright. Promise.