[Let me just start this post by saying that while writing it,
David
's gato
Bart
was sitting under the computer desk, staring @ my feet and growling non-stop. WHY DOES HE HATEZ ME?!]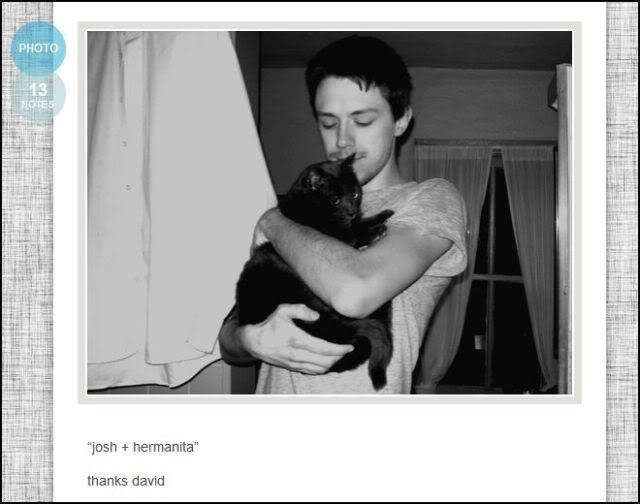 Hey folkz...so I just wanted to quickly call to your attention how famous I am getting. Last night
I submitted a photo of me under David's name
David submitted a photo of me to one of mah favo new sitez,
Cute Boys With Cats
. In the
photo
, I was holding mah special time beaaaaauuuuuty queeeeeeeen
Hermanita
.
Since I know you all are just counting down da diaz till I win an
Oscar
/am on
American Idol
/release a best-selling book of poemaz/die, I thought I would update you to the fantastico newz that mah picture con mi gato was accepted! Those that handle the submissionz for the site are exxxtremely picky as to whose puss with puss they slather on their page
[read as: they put up nearly everyting they get sent, I think]
, so for obz I feel incredibly honored.
I had mah phone off all day, so I'm sure I missed the dozenz of phone calls from all of the biggie time modeling agencies. Eh...they can leave a message, I'll get back to them when
(or IF!)
I ever have the time. The life of a rising celebutard is muy dificil! I can't just flash mah gorgeous jawline @ every stalkarazzi that pretendz to be an actual photographer! And NO...I won't sign you an autograph...GET THE HELL OUTTA HERE! Off my lawn in 10 secondz or else I'm calling the po-po!