Everyone that readz dis here blog should be well aware of the fact that mah favo ting in the entire world is music. When I am sad/happy/depressed/anxious/jubilant it is also there for me like a loyal best friend who would like me even if I still looked as hideously bizarre as I did
back in high school
. Yes, it never leavez me and I kinda want to marry it.
Anywayz, this past year has been a staccato roller coaster of good things and bad things and changes and rearranges and ups, downs & all-arounds. I had joy, I had fun, I had seasonz in da sun. I daaaaaanced wiff tearz in mah eyes and I cried, cried, cried en my lonely heart. And what did I turn to when timez got real shetty?!
Family & friends
MUSIC. Here are three songs written about/performed for me by famous peepz. They are perfect when I need a bolt of sympathetic comfort
[feat. a surge if confidence]
. Oh, they know me sooooo well!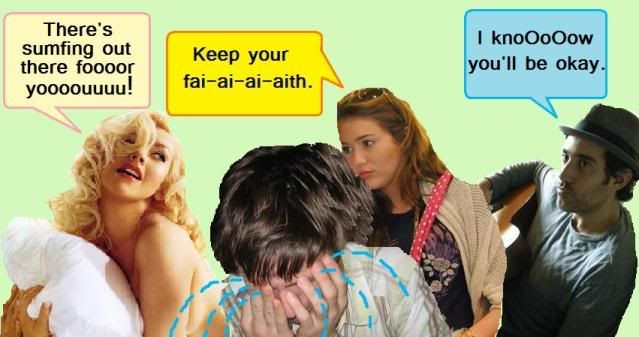 Christina Aguilera
- "
I Will Be
"
I listened to this jam back in high school after mi amiga
Val
informed me of how great it was to cry to @ night! It was omitted from Xtina's
Grammy
-nominated masterpiece,
Stripped
, so I had to download it. And once I did, lordy lordy, it was put in constant rotation during my somber Sad City mixxxez that I used to listen to on repeat whenever tEeNAgE LifE goT To bE tOoOOO HaRd!
It taught me that even though
the world seems so cold
and even though
darkness surroooooooundz
, I can for def def defferz
see through the raaa

(eee)

aaaain
and
fiiiind mah waaaa

(eeee)

y.
Miley Cyrus
- "
The Climb
"
Yeah, yeah...everyone wants to bash
Miley Cyrus
and say she can't sing and that she's a bitch. But, you know what? Grrrlfriend
can
sing and therefore can be a rude ho to whoever she wants to. She's pretty rad in mi libro, and this song is the perfect counselor para me whenever I get terrified of mi futuro or get discouraged and think that I am too much of a Wuss Festival to become a grown-up.
Though times can be mad dificil,
these are the moments that I'm gonna remember most
and while I oft want to break down
[feat. drown in a waterfall of tears]
, I know
I've gotta be stroooong and just keep pushing ooooo-OoOon
.
Joshua Radin
- "
Brand New Day
"
Dis hot piece is the mastermind behind
Ellen DeGeneres
' wedding song, "
Today
," that made mah eyeballz explode wiff acidic tears a year and a half ago. However, he was able to Scotch tape mi corazon back together wiff this other track that is all about waking up and pulling yourself out of the burned ashes of yesterday's failurezzz. It was probz co-written by
Scarlett O'Hara
@ the end of
Gone Wiff da Wind
when
Rhett Butler
was all lyke, "
I don't give a damn. Peace out bitch
," and Scarlett she was all lyke "
Yeah well, tomorrow is anotha day, asshole.
"
Anywhooo, Mr. Radin & his gentle ojoz reassured me that while
this cycle neeeever endz
, I should always have faith in
some kind of magic
that will lift me outta bed en la mañana to see
the sun is shining
and that I'm fully capable of making my life less sucktastic and more funified than it was the day before.
What about YOU folkz? Do you got some tunez that your ears get all makey-outy wiff whenever you're a depresso espresso?