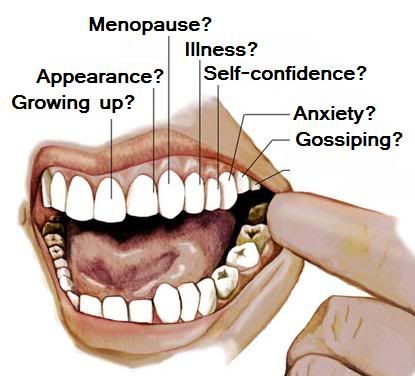 Ever have one of dem dreamz where something happens that is so utterly bizarre and disconcerting that even after you wake up and go a'bumblin' about your day, you can't stop thinking about what happened? Well, I DID!
Last night I had a rather deceptively simple sueño that merely involved me standing in front of mah bathroom mirror, brushing my chopz. I am anal retentive about my teefz and am sure to brush
[feat. flossyflossy]
them multiple times a day. I am supa serial afraid of getting a cavity and then having to fork over prox $1,000,000,000 to get it taken care of, so initially I was proud of Dream Me for being so responsible while I was visiting Slumber Town.
But then terrible hell broke loose and impaled my subconscious wiff horror-time nightmare spears! As the bristles of my brush were scrubbadubdubbing mis dientes, scratches started to appear all over them. The scratches became deeper until ultimately mah poor little teefz began flaking outta my mouth and collecting in my sink. Since I was asleep and my mind likes to torment me, Dream Josh just kept brushing and scraping and flaking until all that was left in mi boca were stubs where pearly whiteness used to glisten. My mouf ended up looking like dis:
So I did what any obessive compulsive paranoid artard would do...I looked up the meaning of all this dental madness on the interwebz thus further propelling myself into a suffocating pool of anxiety! My findingz were totez not sexxxycopterz. Here are some of the possibilities that
this rando website I found on

Google
told me about:
Losing your teefz in a dream could mean...


1.
"You may be experiencing feelings of inferiority and a lack of self-confience."


2.
"Anxieties about your appearance and how others perceive you."


3.
"A fear of rejection, sexual impotence or the consequences of getting old."


4.
"You may have uttered some false or foul words and those words are coming back to haunt you."


5.
"That your health...is in jeopardy."


6.
"An over-exaggeration of your worries and anxieties."
7.
"Menopause."


So basically I am an insecure, ugly, sick, impotent worrywart who gossips religiously and is beginning to go through "
the change
." Yay!
Rando unreliable website
, you sure hit the nail on the head!
So what about you folkz, what are your dreeeeeeeeaaaaaaaammmzzz trying to
frighten the shit outta you about
tell youuuu about yourself?!