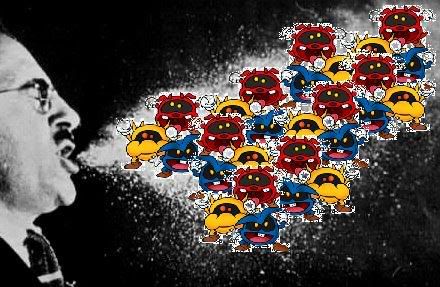 I
HATE
getting sick. I know some peepz who don't mind it entirely if it means that they get to be lazybonez central and stay home from werk/school/the real world and just sit around watching televisor all day, but I can't stand it! I hate missing out on tingz and am always under the impression that the one day I take off from my daily responsibilities to get well will be the single most crucial and important dia en mah entire life. What if I have to save the world [
read as: run menial errands]
,
and there I am @ home, fusing wiff da couch, watching
Judge Judy
be mean to everyone, slurping chix soup and sleeping abnormal hours? Lamesauce!
So when I was younger, if I started feeling a little under the weatherz, I wouldn't drink gallonz of OJ or gargle salt water or any crap like that. I'd turn on my
only friend growing up
Nintendo Entertainment System
and play
Dr. Mario
until the cows came home.
Now, if you were too young or too oldz to have experienced this wonder of gaming magic, lemme essssssplain. Basically, you're Dr. Mario and you're chucking these multi-colored pills into a beaker of germs. The germs come en tres colores and you have to line up the appropriate pills wiff da evil nasties inside. It's like
Tetris
only harder and more morbid.
Well, dis prescription of "
Ignore Your Physical Ailments to Rotate Pixels While Listening To a Repeating 8-Bit Soundtrack
" always did the trick for me! I think it was like mind over body or whatever the shiz that saying is.
Since I am sooooo nice, I thought I'd post a link to an emulated copy of the game that you can play FOR FREEEEZ on the Interwebz. Just don't play it @ work cuz I don't want any of you hoz getting a-fired cuz of me. Slackerz! DO UR JERBZ!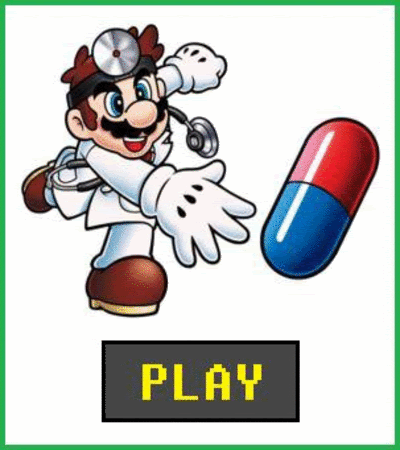 [Make sure all your Java/Flash schtuff is updated. I had to play it on ugly-ass

Internet Explorer

for it to work para moi!]
Phew! I'm feeling mad healthycopterz already!
::fart::